With ongoing concerns over the COVID-19 pandemic, many banks and credit card issuers are offering contactless payment options. You might be wondering how these cards work — or if they're as secure as other types of payments. What are the benefits of contactless payments, and how do you use a contactless card?
Note: This page contains affiliate links, which means that if you buy something using one of the links below, I may earn a commission.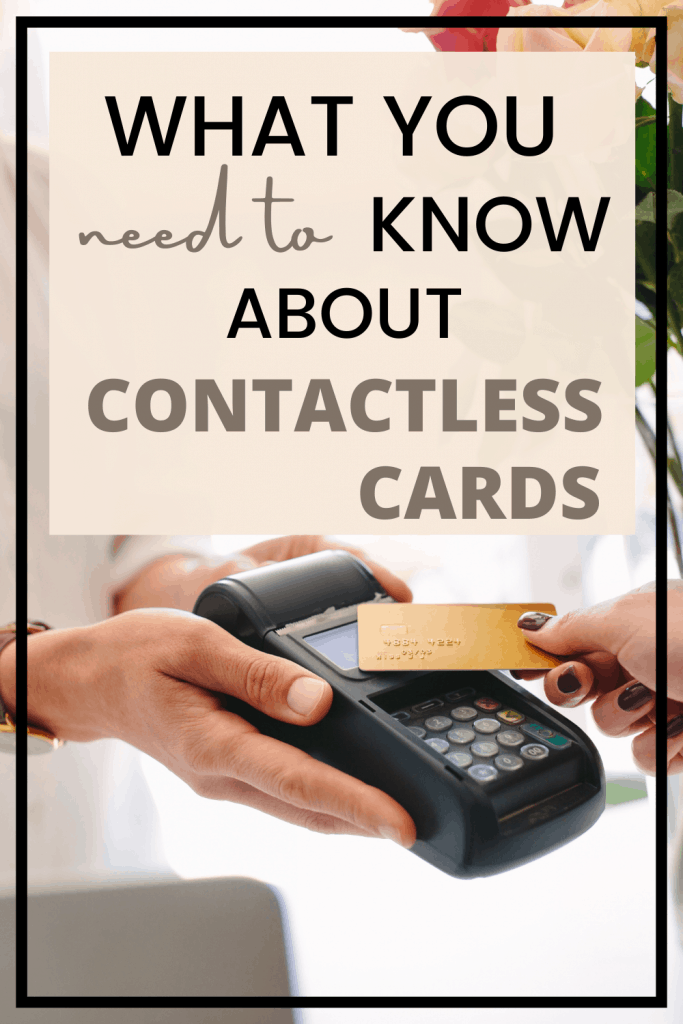 How Do Contactless Cards Work?
Contactless credit or debit cards work like a card with a security chip. The chip is embedded within the plastic of the card and equipped with radio frequency identification (RFID) technology. Instead of a chip reader, the contactless card uses short-range radio signals to communicate with payment terminals.
A few things happen when you tap your contactless card:
The payment terminal picks up the RFID signal from your card.
The terminal receives a one-time transaction code and verifies the code with your card issuer, such as Visa.
Once the card issuer confirms the information, the payment terminal will process your payment.
This whole process only takes a few seconds, which means you can often use contactless cards faster than inserting a chip or swiping your card.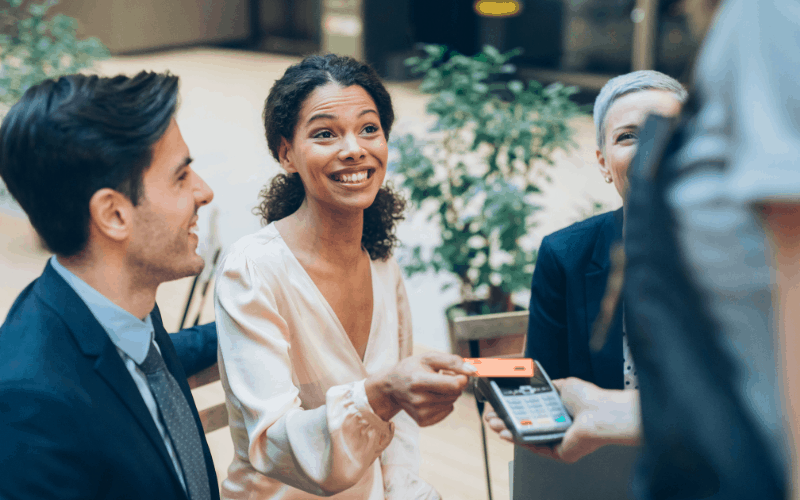 Benefits of Contactless Payments
Although contactless payment has been around for a while, the recent COVID-19 pandemic has led to a surge in demand. More people want a contactless option that helps them spend less time in public spaces and minimizes contact with surface areas when they're out and about. Contactless cards and payments help achieve this and offer other benefits as well.
Additional benefits of contactless payments include:
Less Contact with Public Surfaces: A contactless payment method, including contactless cards, means you don't have to touch a payment terminal physically. This leads to less contact with public surfaces and decreases your chance of picking up germs and bacteria when out shopping or dining.
Faster Checkout: Paying with a contactless card is fast and convenient because your payment only takes seconds to go through. You also won't need to enter a PIN or sign for your payment, making checkout even faster.
Reduced Wear and Tear to Your Card: Swiping a magnetic strip or inserting a chip each time you make a payment slowly wears down your card. Repeated swiping and inserting might mean you have to contact your bank or credit card issuer for a new card — even if your current card isn't expired yet. Contactless payments help to keep your card in good condition.
Secure Way to Pay: Like chip cards, contactless payments are a secure way to pay for things like groceries, dinner, or new clothes. The RFID system uses a one-time code and encrypted card numbers to help keep your card information secure when you pay.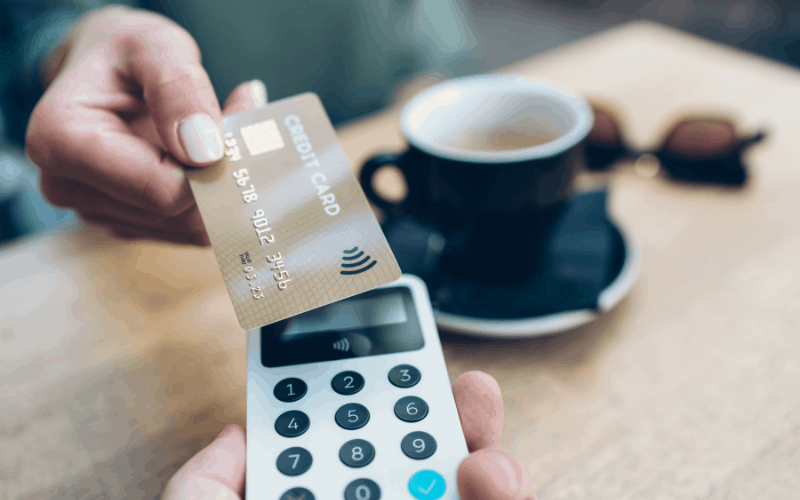 Is a Contactless Card as Secure as a Chip Card?
Credit and debit cards with chip encryption have been a popular way to pay for several years. When your credit card company or bank sends you a new contactless card, you might be worried about the security of this newer technology.
The good news is that contactless cards offer the same level of protection as chip encryption. In fact, the technology used to encrypt your information on a contactless card is essentially the same as chip encryption. When you hold your contactless card over the payment terminal, your payment information is encrypted and given a one-time code.
The one-time code adds an extra level of protection to the encryption; the code is used to identify the specific transaction taking place. If a thief somehow managed to steal the code, they wouldn't be able to use it for future purchases.
Are There Other Types of Contactless Payments?
A contactless card isn't the only option for contactless payments. You might even have access to other ways for contactless payments right now. Mobile wallet services such as ApplePay, SamsungPay, and GooglePay all use technology similar to contactless cards to make touchless payments.
How Do You Get a Contactless Card?
Many credit card companies and banks are upgrading to contactless credit and debit cards. If you apply for a new card, there's a good chance your new card will be equipped with contactless technology. Your bank or credit card company may send you a new card in the mail to replace an expiring card with a new contactless card.
You can also contact your bank or credit card issuer to request a contactless card if the technology is available for your account. If not, you might want to look into a new account that gives you access to contactless payments for a more convenient checkout experience.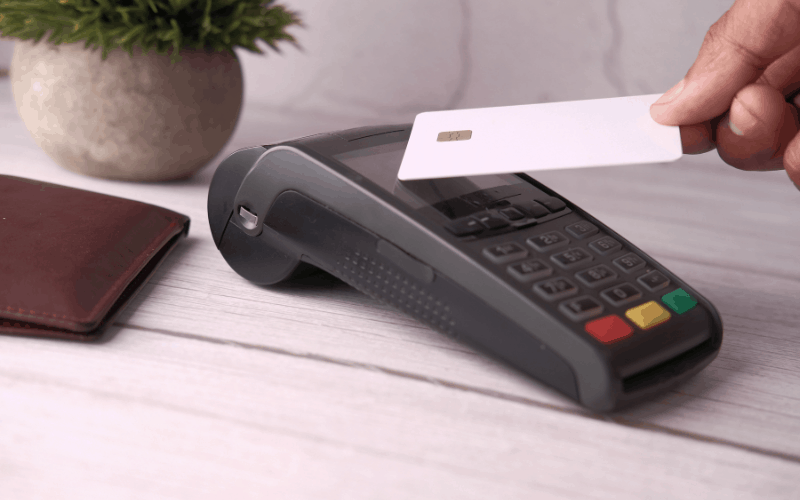 How Do You Use a Contactless Card?
One of the biggest benefits of contactless payments is the ability to make a purchase quickly and easily. To use your contactless card, simply hold your card over a contactless payment terminal for a few seconds.
If you're having trouble making a contactless payment, try these tips to troubleshoot the issue:
Look for the contactless payment symbol to make sure the terminal is equipped for contactless payments. The symbol looks like four curved lines, similar to a WiFi network symbol on its side.

Hold your card flat above the payment terminal. Holding the card at an angle can sometimes make it difficult for the radio signals to communicate with one another.

While you don't have to tap your card on the terminal, you should hold the card within two inches of the surface. This makes it easier for radio signals to communicate.
Using contactless cards is one of the more secure and convenient ways to pay at the checkout. Check your credit and debit cards for the contactless payment symbol, so you can start using contactless payments today.
Don't forget to Like, Share, Tweet, and Pin this post.