Essential oils have a wide range of uses.  They can be used for natural remedies for skin, hair, mood, cleaning, healing, and various other life hacks.
Adding essential oils to a diffuser fills your space with wonderful smells that will aid your mood and your physical health.  In this blog post, I'm going to give you some of my favorite essential oil recipes for diffusers.
My Essential Oils & Diffuser Gave Me Life
My inspiration for this blog post comes from a very real place.  Right now I have a cold and my main symptom is a very stuffy nose.  As we all know, cold symptoms seem to get worst at night.
Two nights ago was the absolute worst.
I got home from a great dinner with co-workers and I was in a great mood.  We visited one of my favorite seafood restaurants which happens to have the best pomegranate martinis.
The meal was great and I had two of those awesome martinis.  I got home around 9:30 pm and was instantly ready for bed.  I never get to bed before 10 pm so this was a welcome treat.
Unfortunately, sleep was not in my future this night.
What earlier was just watery eyes and a little runny nose kicked into full gear.  After about an hour of being home my nose was so stuffed up I had to breathe solely through my month.  I literally felt like I was drowning.
I didn't want to take any cold medicine because I had been drinking earlier in the night.  I didn't have any saline on hand which is something that I would give my daughter whenever she is stuffy.
Let's just say I had a very long night which did not include very much sleep.  The little relief I did get came from propping myself up on pillows so that I wasn't laying flat.
The next morning, it hit me that I had 6 essential oils and a diffuser that I purchased a few months back.
I'm not a big fan of taking medicines especially if there is a natural remedy that works.  I put together a few essential oils and added them to my diffuser and the rest is magic.
I was breathing and able to get some rest in no time!
The very next night I slept in my office on my couch, right next to my diffuser.  I slept like a baby.
My Diffuser
I purchased my diffuser from Amazon.  I am so addicted to Amazon Prime shopping that I check Amazon first for anything I want to buy online.
Here is the exact diffuser that I purchased.  It has a light that changes colors, automatic shut off, and it is cool mist.
Essential Oil Diffuser
My Essential Oils
I am not an essential oils expert by any means.  I've only tried one brand of oils and I've like them so I haven't switched.  Give these a try or any other brand that suits your budget.  I used Amazon reviews and price to make my choice.
ArtNaturals Aromatherapy Top-16 Essential Oil Set
Each of the essential oil recipes for diffusers below can be created using this set of oils.
Note: This page contains affiliate links, which means that if you buy something using one of the links below, I may earn a commission.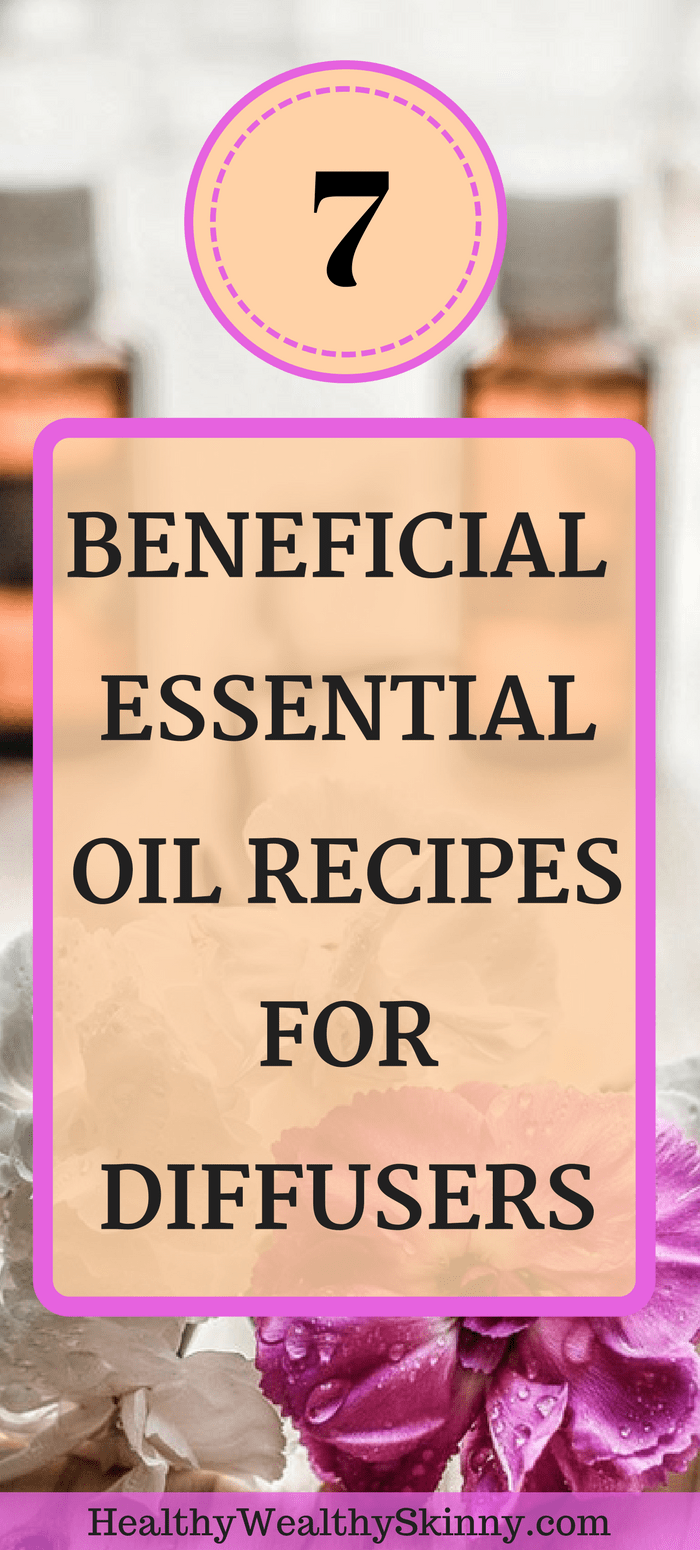 Essential Oil Recipes for Diffusers
Here are a few of my favorite essential oil recipes for diffusers.
Stuffy Nose Relief
This blend will have you breathing freely in no time.
3 drops Peppermint
2 drops Eucalyptus
2 drops Tea Tree
1 drop Lemon
Sleep Aid
If you are in need of help sleeping, this blend will make you calm and ready for bed.
4 drops Cedarwood
3 drops Lavender
Mind & Mood Refresher
This blend will give you mind and mood an extra boost.  Use it in the morning or for a mid-day pickup.
4 drops Wild Orange
4 drops Peppermint
Related Post:  Tricks to Motivate Yourself to Workout
Allergy Relief
If you suffer from allergies this blend is for you.
3 drops Peppermint
3 drops Lavender
3 drops Lemon
Germ Fighter
This blend will help you fight off those nasty cold and flu germs.
1 drop Eucalyptus
2 drops Clove
1 drop Rosemary
2 drops Lemon
1 drop Cinnamon bark
Spring Cleaning
This blend will give your house a fresh clean smell.
4 Peppermint
4 Lavender
4 Lemon
Increase Focus
Use this blend to increase your focus to complete any task.
3 Orange
3 Frankincense
3 Lime
3 Peppermint
I hope you find these essential oil recipes for diffusers useful.  If you are new to essential oils and want to learn more about their benefits and uses take a look at this complete collection of herbs and essential oils resources.
Do you have any essential oil recipe favorites? Leave a comment and share your ideas. Or give mine a try and tell us how you like them.
Don't forget to Like, Share, Tweet, and Stumble this post. 🙂