You want to work out… You need to work out… but there are so many other things you need to do.
Does this sound familiar?
Getting motivated and staying motivated to work out can be just as hard as the workout itself.  There will always be something that's more important or more exciting to do.
In this blog post, I'm going to share with you tricks to motivate yourself to work out that actually work.
Note: This page contains affiliate links, which means that if you buy something using one of the links below, I may earn a commission.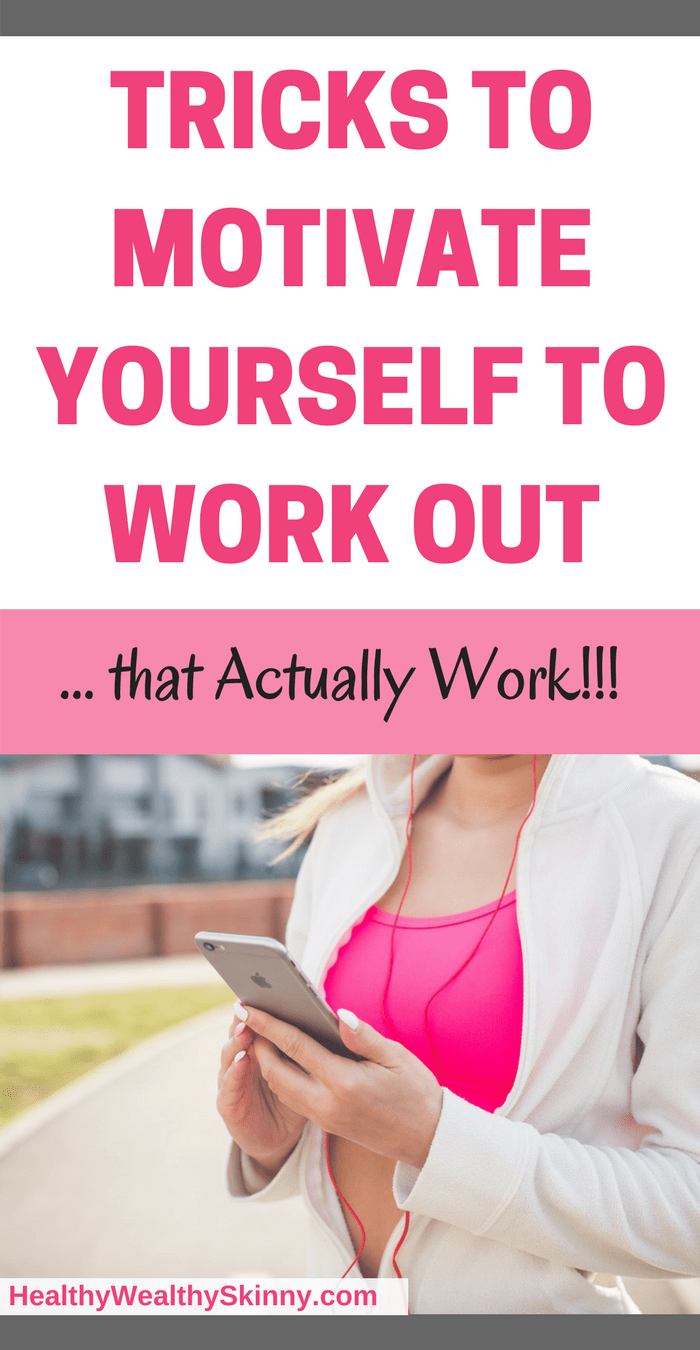 Tricks to Motivate Yourself to Work Out
Choose a Set Time to Work Out
The first item on my list of ways to motivate yourself to workout is to choose a set time to work out.  Adding your work out to your schedule allows you to get into a daily routine.
Your work out will no longer be an optional part of your day.  It will become embedded in your day like drinking your morning coffee or reading the daily news.
Work Out Early in the Morning
Another trick to motivate yourself to work out is to get it done early in the morning.  Working out early in the morning refreshes you for the entire day.  It also allows you to get your work out over with.
Working out early in the morning also provides you with a sense of accomplishment.  You move through your day knowing that you have done what's needed to get fit and stay healthy.
Related Post: 15 Signs that You Need to Drink More Water
Set Measurable Goals
A great trick to motivate yourself to work out is to set measurable goals.  Goals give you targets that you to work to reach.
Keep in mind that your goals don't always have to be a specific weight.  Some sample goals can include:
Complete 8000 steps per day
Exercise 30 minutes
Drink 8 glasses of water
Walk 3 miles
Each of these goals are measurable and attainable.  Having set goals will motivate you to achieve them.
Related Post: 50 Goals to Enhance Your Life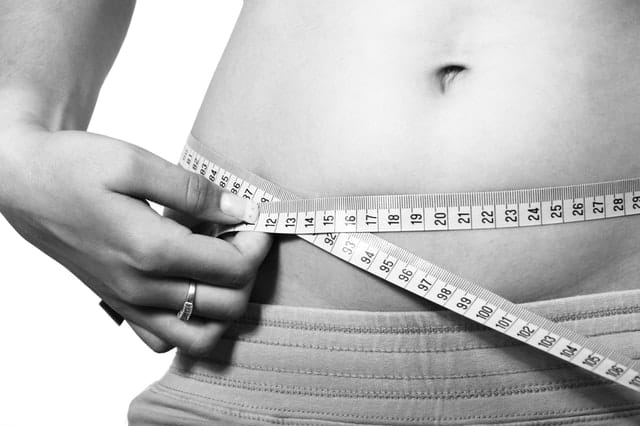 Track Your Progress
Tracking your progress is an excellent way to motivate yourself to work out.  After setting your measurable goal is beneficial to monitor your progress toward achieving that goal.
Purchasing a Fitbit was one of the best things I did to stay motivated to work out.  It gave me tangible evidence of things I was doing towards reaching my fitness goals during the day.
I quickly became addicted to achieving a certain amount of steps in a day and getting in my 30 minutes of exercise.  Having a way to monitor my progress pushed me to meet my daily work out goals.
Check out the various Fitbit Models that will help you track your progress. My favorite is the Fitbit Charge 3.  It motivates me to reach my step goals and helps me track my calories.
Get an Accountability Partner
An Accountability Partner is someone that you work out with that will hold you accountable to actually working out.  Your accountability partner will be there to motivate you.
You will also be there to motivate them.  Having an accountability partner is also great if you have certain types of workouts that you don't enjoy doing.
I love ab workouts and my accountability partner enjoys cardio.  I motivate her to work on her abs, and she motivates me to get my cardio in.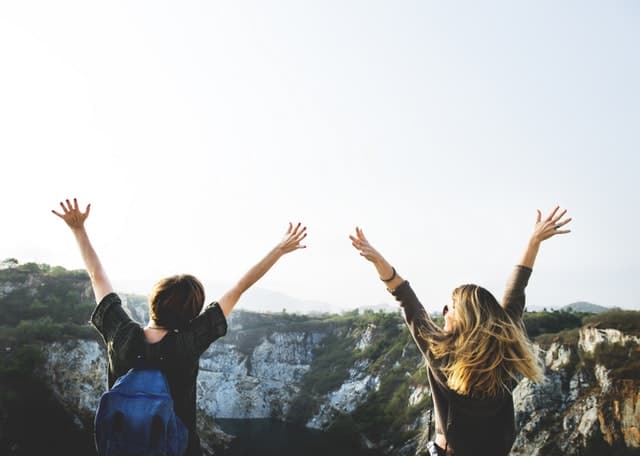 Compete with Friends
Competing with friends is one of my favorite work out motivation tricks.  Entering into friendly competitions with friends motivates you to work out and makes working out fun.
Most fitness tracking programs include features that allow you to compete with friends by doing various activities.  I own a Fitbit and I love the weekly Work Week Hustle that I compete in with friends.
The Work Week Hustle is a weekly challenge where you compete with friends to see who can get the most steps during the work week.
Related Post:  I'm a Fabulous Unicorn Mom – Are You?
Buy Workout Clothes
This one might sound odd but having cute work out clothes is a trick that will actually motivate you to work out.  Dressing the part and feeling good about what you are wearing will give you that extra push to get your work out done.
I was so surprised to see that there are so many fashionable choices for work out clothes.  Get up and get dressed in your cute work out outfit and you'll be motivated in no time.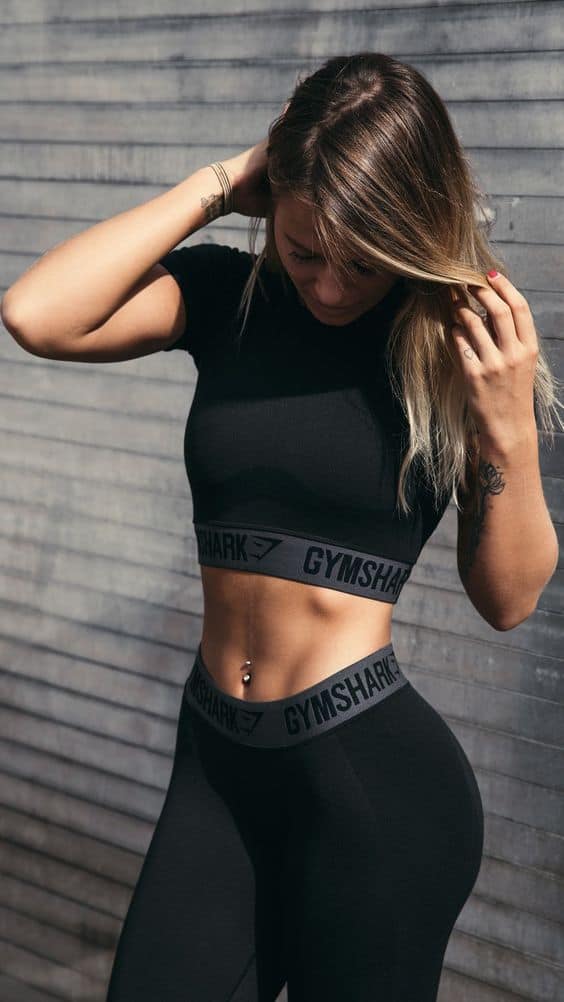 This outfit can be found at GymShark.com
Include the Entire Family
Including the entire family into your work out regiment is another fun way to motivate yourself to work out.  Making daily exercise a part of your family routine keeps you and your entire family healthy.
It also provides time for the family to bond while doing fun activities.  Kids are increasingly spending less and less time being active outdoors.
Adding family walks or bike rides into your week will motivate you to work out and have fun doing it with your loved ones.
Related Post:  Healthy Air Fryer Recipes – Mega List
Incorporate Motivation into Your Day
Incorporating motivation into your day is another trick to motivate you to work out.  Inspirational quotes, work out photos, or videos are all ways to get added motivation to carry out your work out plans.
Joining social media groups with people that have your same goals is also a way to incorporate motivation into your day.  Surround your self with visuals that will help motivate you to achieve your goals.
Pinterest is a great place to find work out motivation & tips. Pin these to your Fitness board on Pinterest!
Related Post:  How to Increase Your Motivation Immediately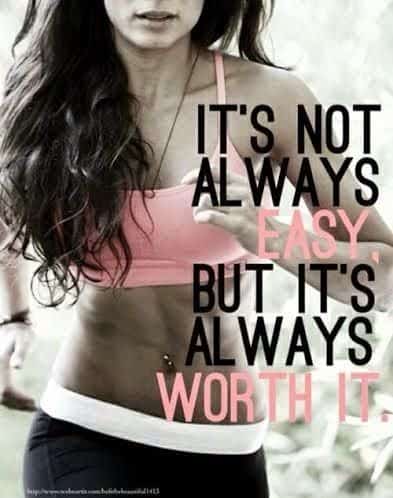 Time to Work Out
I hope you found this list of tricks to motivate yourself to work out helpful.  I use each of them to help me stay motivated.
Also, here are a few fitness tips for new moms.  It's not always easy to work out but it is worth it.
Working out is essential to living a Healthy, Wealthy, and Skinny life.
Take a minute to share this post and leave a comment.  Tell us your secret motivation tips.