Let me start off this post by saying I am not a cook.  I do however have a few signature dishes that my mom cooked while I was growing up that I absolutely love.  My mommy's homemade waffles are one of those dishes.
Now that I'm older when I want to taste my old favorites I try to cook them myself.  The funny thing is my mom is an old school cook that doesn't measure anything.  Trying to master her recipes is both fun and challenging.
In this blog post, I'm going to give you my mommy's homemade waffles recipe.  I hope you enjoy it as much as I have over the years.  For those true cooks out there feel free to get creative an add your own spin to the recipe.
Note: This page contains affiliate links, which means that if you buy something using one of the links below, I may earn a commission.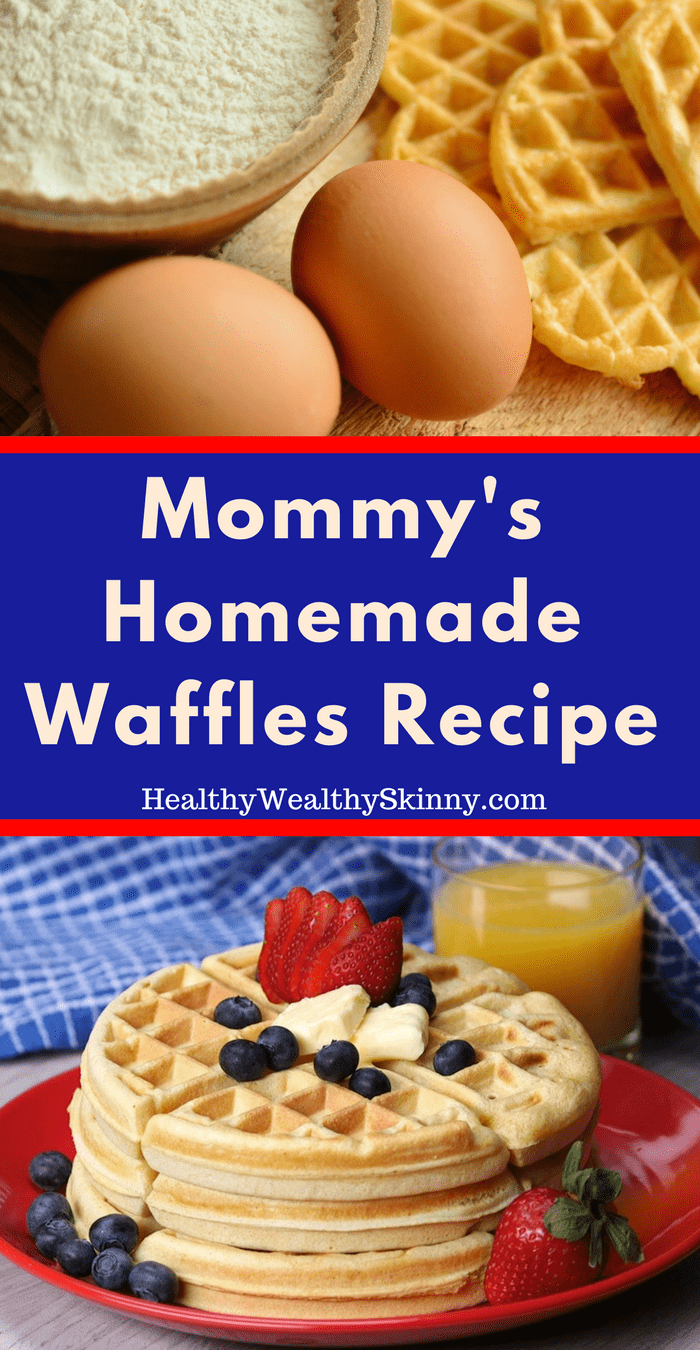 A Few Tips…
Here is the waffle iron at my mom's house.  We always add newspaper under the iron as it can get a little messy if you add too much batter.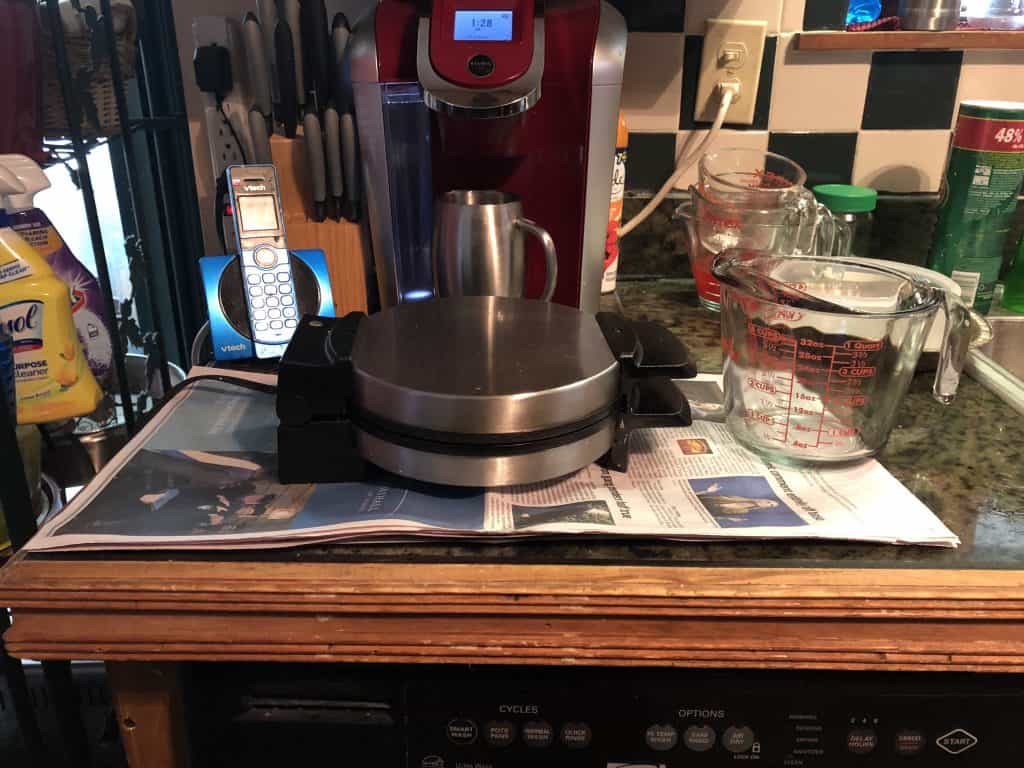 You will want to experiment with how long you allow your waffles to cook.  Most waffle irons have an indicator to tell you when the waffle is ready.  Some people like their waffles light and some like them dark.  Simply adjust your cooking time accordingly.
One more thing…
I love adding melted apple jelly to my waffles instead of syrup.  Give it a try.  It is absolutely yummy!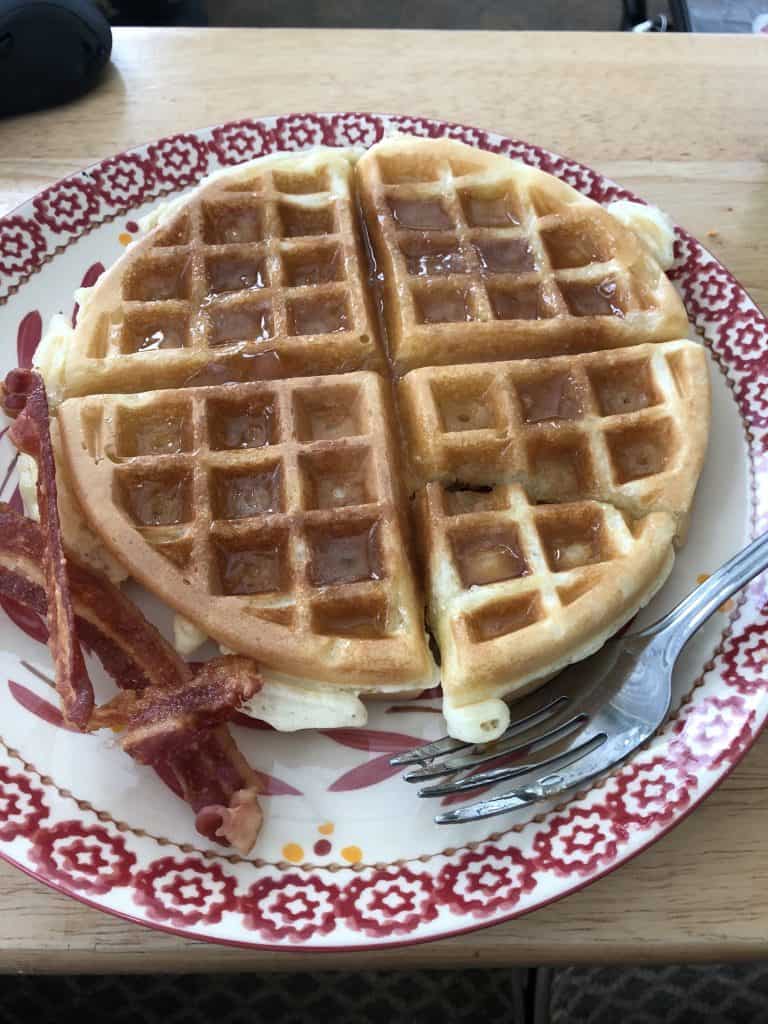 Mommy's Homemade Waffles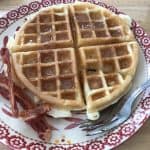 Mommy's Homemade Waffles
A family recipe for homemade waffles.
Ingredients
4

tbsp

Real Butter

(melted)
Wet Ingredients
2

Eggs

1 1/2

cups

Buttermilk

1

tps

Vanilla Flavor

(Optional)
Dry Ingredients
2

cups

Self-Rising Flour

4

tbsp

Sugar

1

tbsp

Baking Powder
Instructions
Mix Wet Ingredients
Add eggs to a large mixing bowl and beat slightly

Add Vanilla Flavor if desired

Add Buttermilk to eggs and stir
Mix Dry Ingredients
Add Self-rising flour into a separate mixing bowl (Do Not mix with wet ingredients at this time)
Combine Wet & Dry Ingredients
Add dry ingredients to the large bowl with the wet ingredients and mix

Add 1/2 of the melted Butter

Mix until batter is a cake mix consistency (a few lumps are ok)
Make Waffles
Heat waffle iron to the required temperature

Spray the waffle iron with Pam cooking spray

Top finished waffles with melted butter to taste