Halloween 2020 isn't dead. You can have Halloween at home and still enjoy this spooky fun holiday safely.
The challenges that the world is facing this year with the COVID 19 Pandemic has taken safety concerns for Halloween to a new level. As parents, we want to make sure our kids have fun celebrating Halloween but we must keep them safe in the process.
Now more then ever it is necessary to find alternatives to trick-or-treating. And many of the other traditional Halloween activities that we've grown to love.
But don't worry…
With a little creativity you can have loads of scary Halloween fun and still keep your kids safe.
Note: This page contains affiliate links, which means that if you buy something using one of the links below, I may earn a commission.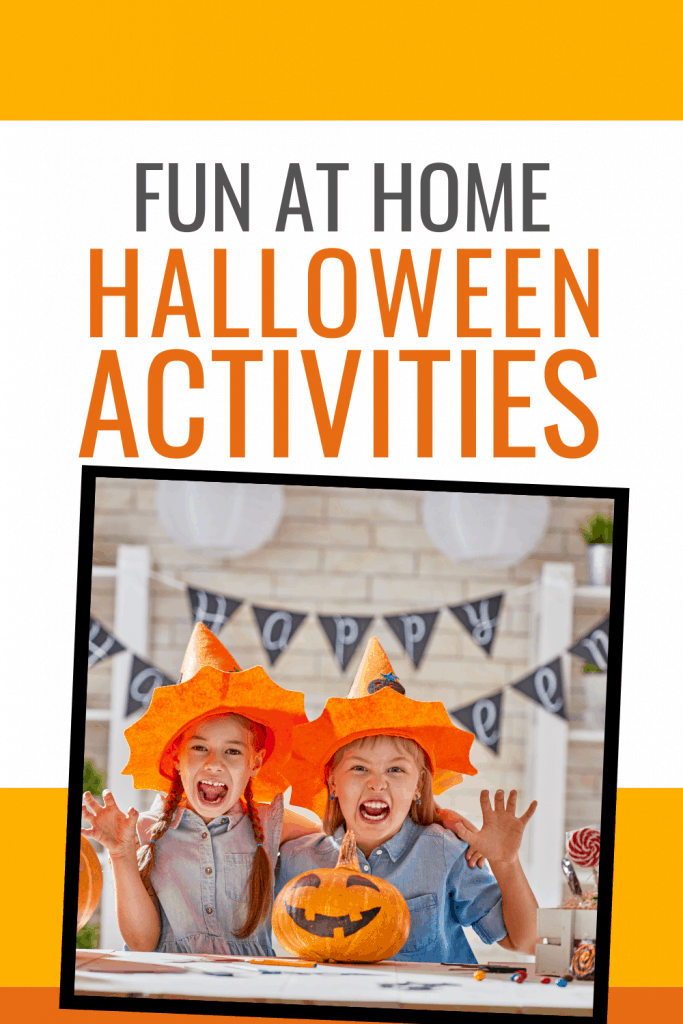 What can you do for Halloween at home?
It's time to get creative and think of Halloween activities that will still allow us to practice social distancing. Being safe doesn't mean that we can't enjoy Halloween activities.
Bobbing for apples has always been super gross if you think about it. And this year it is just unacceptable. Grabbing candy from a candy bowl is nowhere near as gross but during this time we all might want to avoid activities where a large number of people touch things with their hands.
Let's look at some alternatives…
Purchasing candy and treats for the kids
For most kids, Halloween is all about candy. Dressing up is fun but the real goal is to score loads and loads of candy. Just because Trick-or-Treating might not be the best idea this year, doesn't mean there can't be candy.
Purchase candy and treats for your kids and have them available on Halloween. You can make Halloween treat baskets that have your child's favorites. You can even add small toys and activity books.
Have an At-Home Halloween Party
What's more fun than having a party? Social distancing won't stop you from having an at-home Halloween Party. Everyone in the house can dress in their favorite costume. Add music, good food, and games and you've got yourself a great Halloween party that is safe for the members of your household.
Your kids will enjoy being able to wear their Halloween costumes and eating candy or healthy halloween snacks. They will completely forget about Trick-or-Treating.
Decorate inside of the house
Another great part about Halloween is the decorations. This can be a good year to go all out with decorating the inside of your house for Halloween. You can decorate the house prior to the big day so that it is ready for your Halloween day festivities.
If your family likes friendly competition, try having a Halloween decorating contest. Each family member can decorate their room and the spookiest room wins!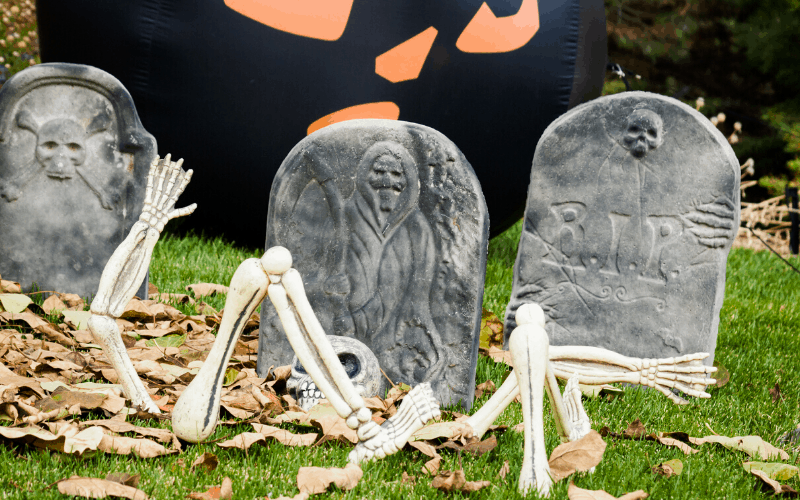 Decorate outside of the house
You don't have to stop with decorating inside the house. Take your creativity outside and decorate the outside of the house for Halloween.
There are tons of fun themes that you can choose from to transform your home into your perfect haunted house.
Allow the entire family to participate in the design concept. And you'll have hours of fun family time that you can enjoy on Halloween night.
Neighborhood Halloween Decoration contest and Drive-by
If you live in a neighborhood with lots of families, everyone can join in on the Halloween decorating fun. You can have a neighborhood contest and drive-by.
Instead of Trick-or-treating on Halloween night, everyone can walk or drive around and look at the decorated houses. This will allow everyone to get outside, while still allowing for proper social distancing.
You can even wear your costumes!
Family Halloween Costumes
Halloween isn't Halloween without costumes. Dressing up as your favorite character is one of the best parts of the holiday. A little social distancing shouldn't stop you from dressing up for Halloween.
You and your family can choose a family costume theme or each member can choose their own character. You can take pictures for social media or get on zoom and show your costumes off live to your family and friends.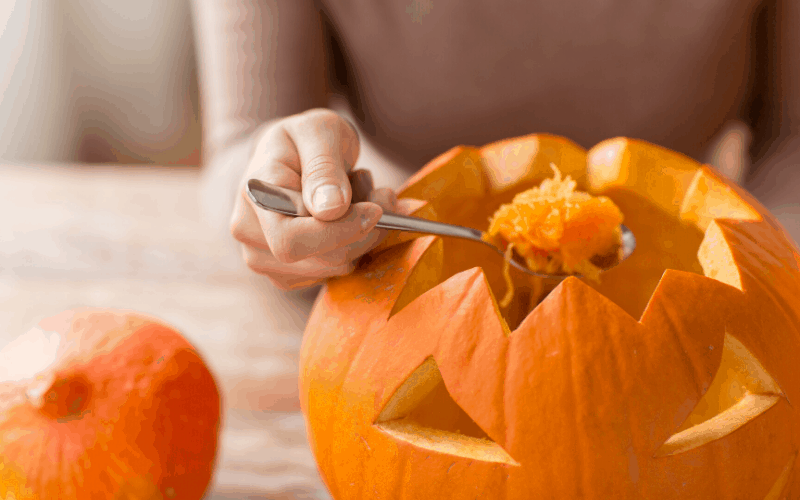 Carve Pumpkins
Carving pumpkins is a gooey, messy, fun activity that is perfect for doing at home on Halloween. Pumpkins come in all sizes and every member of the family can get crafty and create their favorite pumpkin characters.
Some will be silly and some will be just plain scary. Don't forget to take lots of pictures and share them with your family and friends on Facebook and Instagram.
Read scary stories
If you're looking for a fun family activity for Halloween, try reading scary stories. You can find age appropriate stories online that you can print out a read to the kids.
This adds a personal and interactive touch to the Halloween festivities.
Here are some fun Halloween facts for kids that you can read on Halloween.
Watch scary movies
Watching scary movies is another fun way to speed Halloween night. You'll have no trouble finding the perfect Halloween themed movie.
You can find Halloween movies for the kids that you can stream online from Amazon. Or you can turn on any major television network and you'll have a wide variety of shows to choose from.
Here are a few of my favorites for smaller kids. All you need is a smart tv, laptop, or Amazon Firestick. Check each link below ahead of time for availability options.
It's the Great Pumpkin, Charlie Brown
Pooh's Heffalump Halloween Movie
Curious George: A Halloween Boo Fest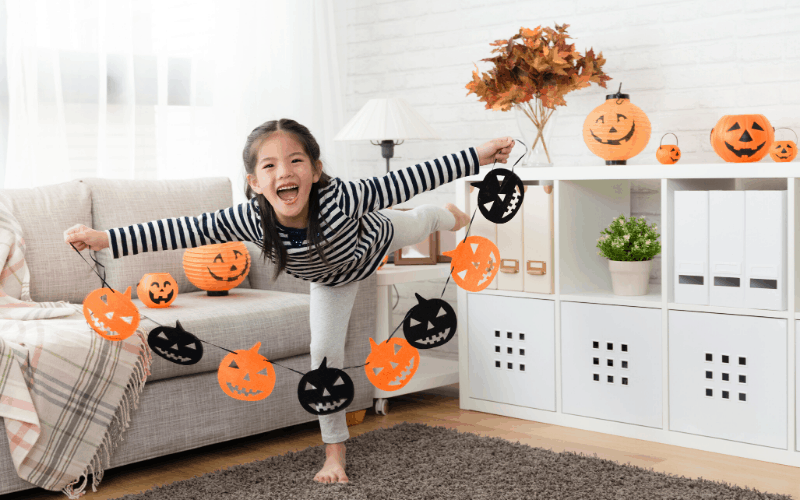 Virtual Halloween Ideas for Spending Halloween at Home
2020 is the perfect year to go virtual for Halloween. It's safer and we have loads of technology that will help us with all of those virtual Halloween ideas.
Carve virtual pumpkins
If carving messy pumpkins isn't your thing, you can try virtual pumpkin carving. You 'll get all of the creativity and fun with none of the mess. Here are a few places you can carve those virtual pumpkins.
Virtual Pumpkin Carving by abcya.com – this is a simple virtual pumpkin carving game for kids
Online Pumpkin Carving – simple and easy online pumpkin carving
virtual Halloween party
During quarantine we've all gotten pretty good at virtual parties. I've seen virtual birthday parties, virtual baby showers, and even virtual happy hours. So why not have a virtual Halloween Party.
Put on your costume, decorate your house, or just grab a scary background image for your green screen and have a virtual Halloween party with your friends. You guys can even give away prizes for the best costume or scariest face painting.
virtual costume parade
A virtual costume parade is a great idea if you have lots of young kids in the house. Dress them up in their costume of choice and put on a virtual costume parade for grandparents and family friends.
This will give the kids a chance to show off their Halloween looks and allow the entire family to be together virtually.
virtual Haunted House
Visiting haunted houses is a popular Halloween activity for adults and teens. If you enjoy a good haunted house you might enjoy visiting a virtual haunted house.
In this article you can find 10 of the scariest places you can visit online during the pandemic.
I'm a big scary cat so I didn't visit these scary places. Leave a comment and tell everyone how your visit turned out. LOL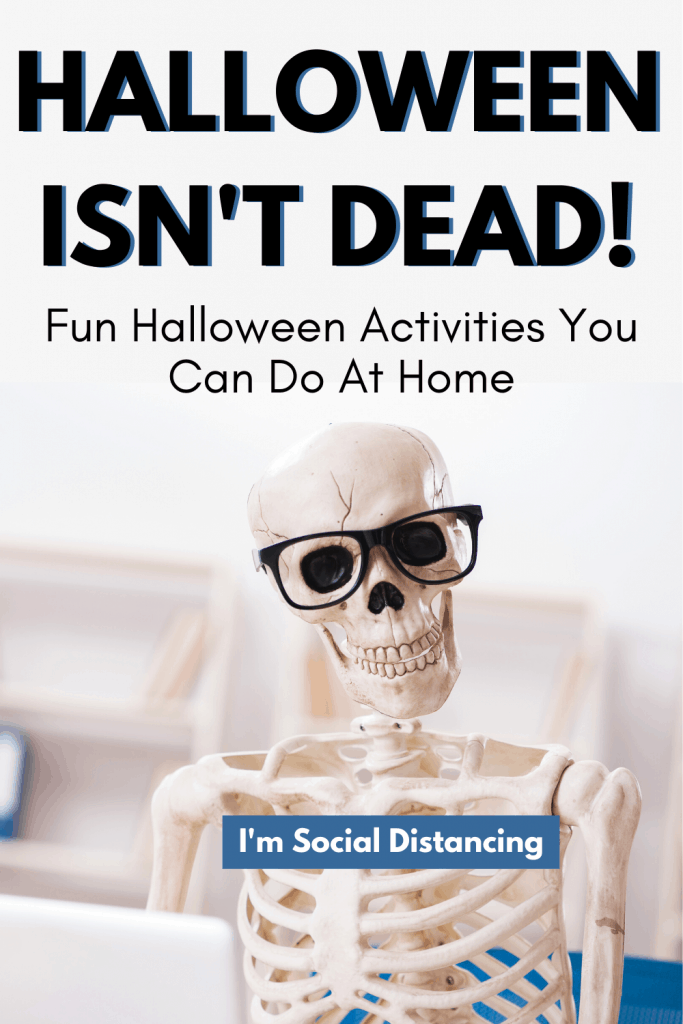 Don't forget to Like, Share, Tweet, and Pin this post.