Breakfast is the most important meals of the day. Sounds familiar right? Well, this age-old saying just happens to be true. Especially when it comes to boosting your metabolism.
Keep reading to discover how to wake up your metabolism in the morning.
Note: This page contains affiliate links, which means that if you buy something using one of the links below, I may earn a commission.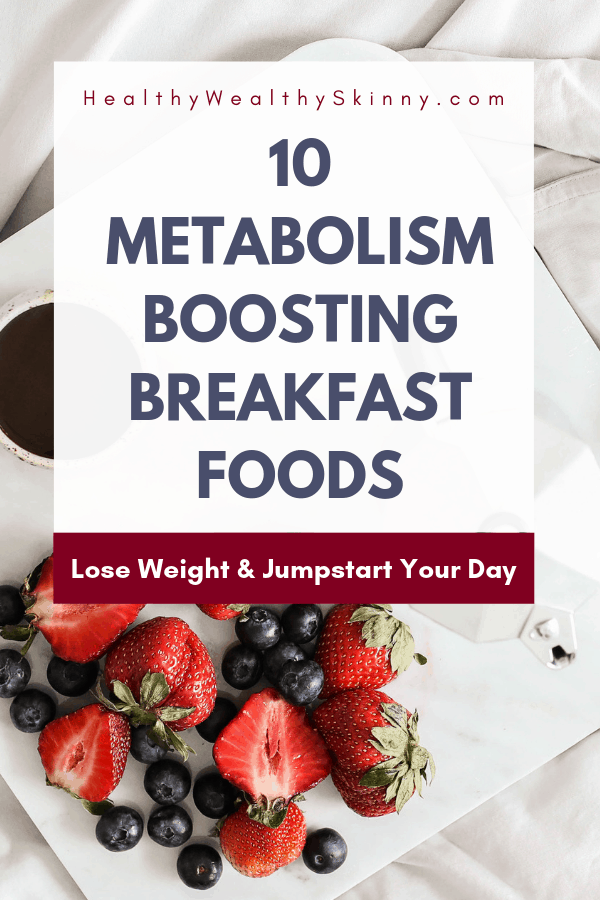 Does Your Metabolism Need a Boost?
Is your metabolism high or low? If you aren't sure where you fall on the metabolism spectrum, check out our YouTube video where I give you the traits of a person with a high metabolism and low metabolism.
After watching the video you now know the signs that are associated with a low metabolism. If you have any of these signs then you should use these tips to boost your metabolism.
Hint: Eating a healthy breakfast to kickstart your metabolism is Tip #1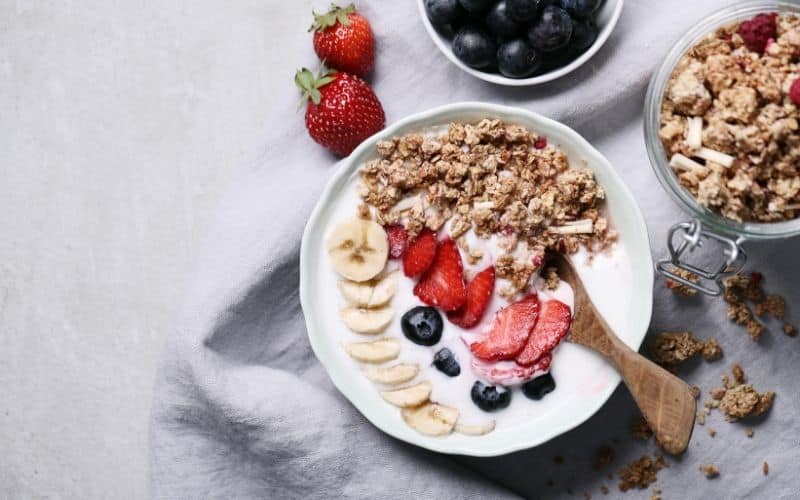 What are Metabolism Boosting Foods
Metabolism is the process of digesting foods so that your body can use the energy they contain. When your metabolism is performing optimally it can help you burn more calories than you take in. This is key to losing weight.
Natural metabolism boosting foods are foods that are known to increase your metabolism. This means that they help your body to burn energy from food at a faster rate.
The higher your metabolism, the more calories you burn and the easier it is to maintain a healthy weight or lose weight.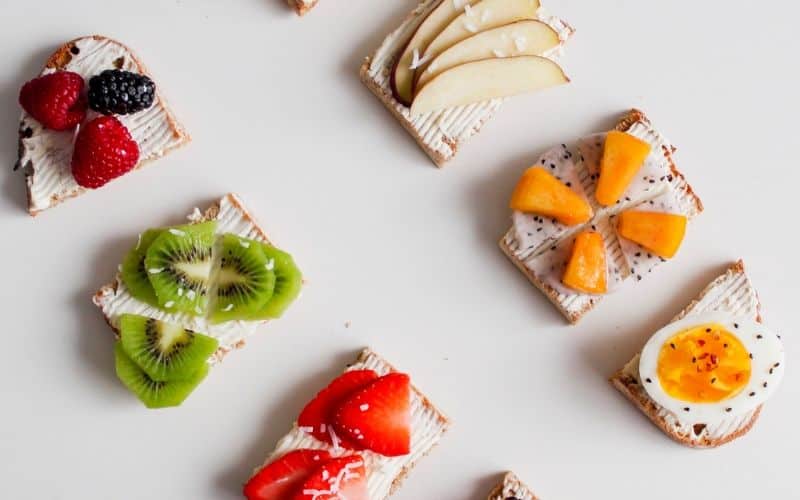 How Breakfast Affects Metabolism
Breakfast is the first meal that you eat after a prolonged amount of sleep. After sleeping, your metabolism has slowed down, which means you're not burning many calories.
If you decide to skip breakfast, you are in essence causing your body to physically start at a slower pace. Giving your body the fuel it needs in the morning can jump-start your metabolism. This boost helps you burn calories more efficiently during the day.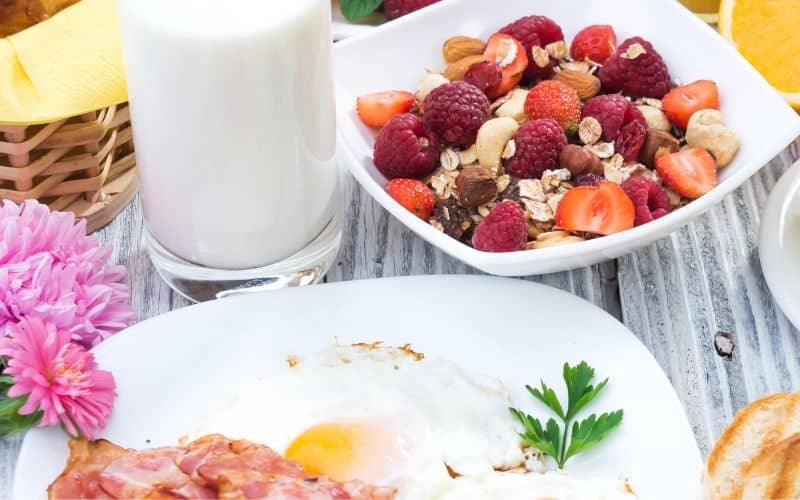 Metabolism Boosting Breakfast Foods
Once I found out that eating breakfast will help raise your metabolism I was left with an open question.
What are the best foods for boosting metabolism? Answering this question would ensure that you are eating the best breakfast to boost weight loss.
The healthiest breakfast is one that contains protein, carbohydrates, fats, and fiber. These are all foods that your body needs.
Here is a list of 10 metabolism boosting foods for breakfast. These foods are great options if you are trying to figure out what to eat for breakfast to lose weight.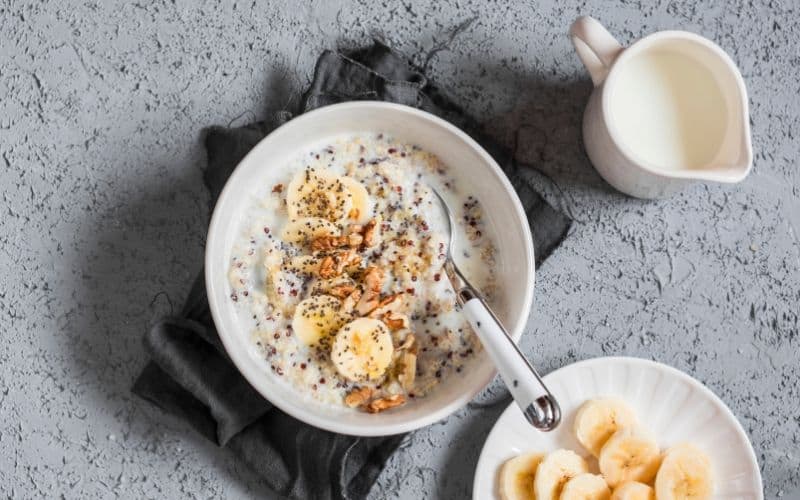 #1 – Whole Grains
Grains are the edible seeds of plants. A grain is considered a "whole grain" if it contains the three key parts of a seed: the bran, germ, and endosperm.
Excellent whole grain options for breakfast include oatmeal, overnight oats, whole-grain or buckwheat pancakes with berries (use real maple syrup), quinoa breakfast bowl, granola, and whole-grain muffins.
Caution: Avoid foods like doughnuts or toaster pastries. They can cause a midday energy crash because they are made up of empty, sugary calories.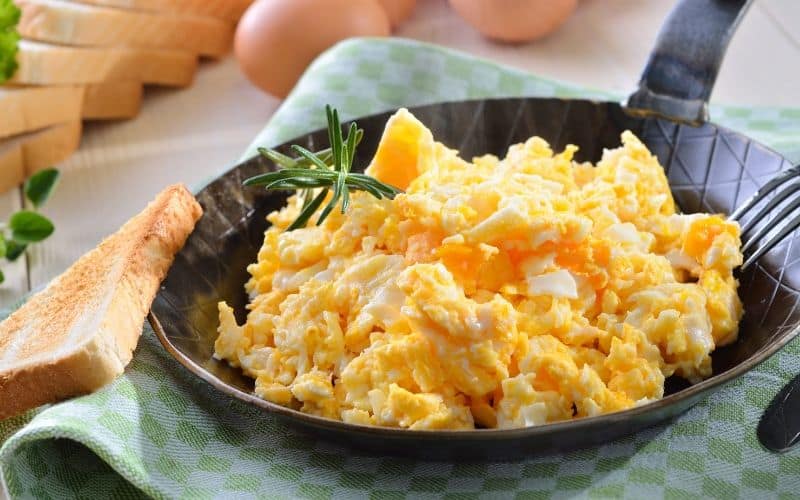 #2 – Eggs
Eggs fall into the protein category which contains some of the top metabolism boosting foods.
You can easily find some incredibly easy recipes for eggs. My favorite is a simple egg scramble with chicken, spinach, cheese, and tomatoes. I simply cut up my veggies and grilled chicken and saute it a little in a pan. Then I scramble in my eggs.
This is pretty much the same as an omelet but it requires no skills at all.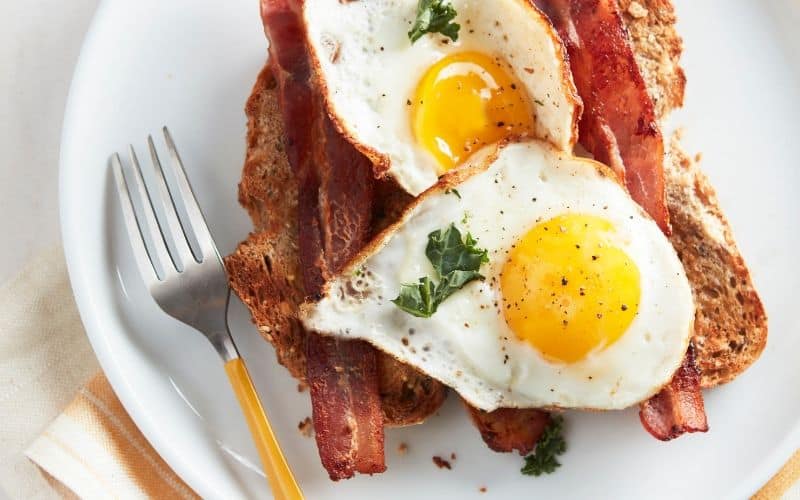 #3 – Lean Meats
Lean meats also fall into the protein family. Just like eggs, they are perfect for raising your metabolism. Protein affects the hormones which control hunger and how fast food empties from our stomachs.
Proteins also have the highest thermal effect of food (TEF), meaning they burn the most calories during digestion, versus carbs and fat. Protein also builds muscle and muscle burns more calories than fat.
Excellent lean meat options for breakfast include skinless chicken breast (I use this in my egg scrambles), Canadian bacon, low-fat turkey, lean cuts of pork or lean cuts of beef.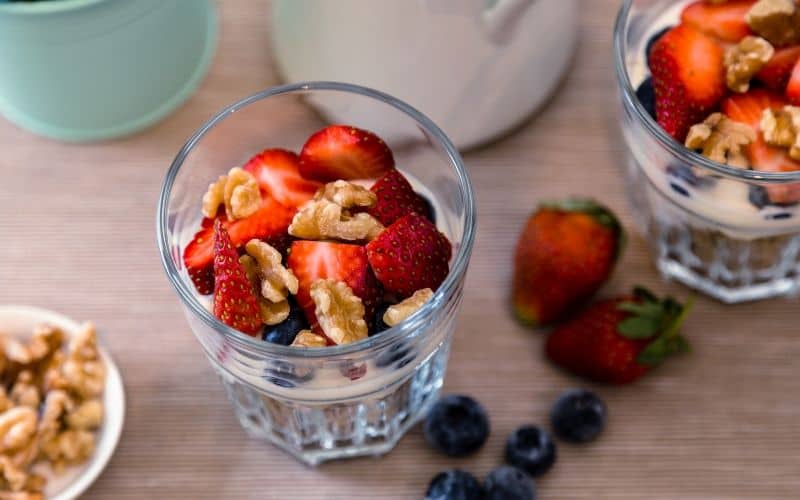 #4 – Fruit
Fruit contains fiber which makes it a natural calorie-burner. Adding fruit to your breakfast is super easy. You can eat it by itself or add it to your yogurt, cereal, or whole-grain pancakes.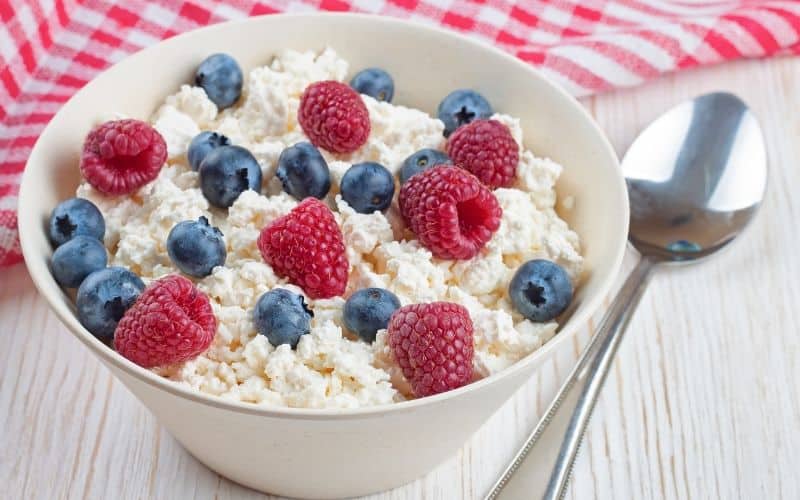 #5 – Low-fat Dairy
Low-fat dairy will also give you protein to boost metabolism naturally. Low-fat dairy options include skim or fat-free milk, low-fat varieties of yogurt and cottage cheese.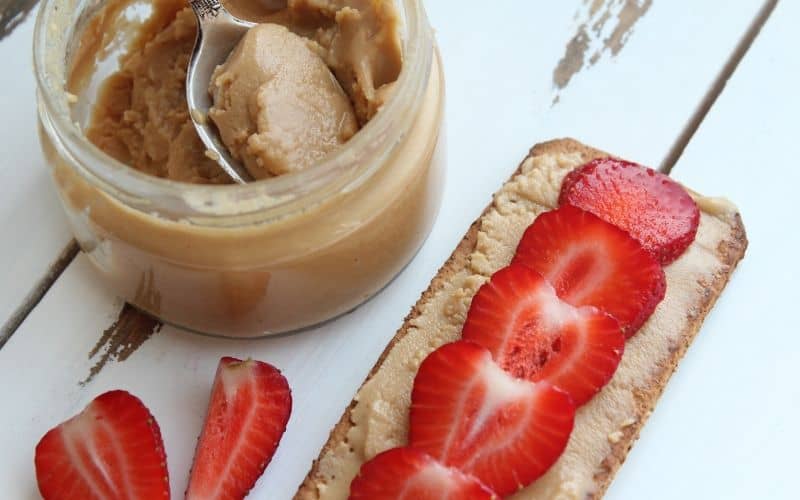 #6 – Peanut Butter
Peanut butter contains fats but it is the good kind of fat. It does not contain harmful fats like saturated and trans fats. The human body needs fat for overall maintenance which includes brain health.
Peanut butter also contains protein and fiber that keeps you full longer. It improves your metabolism. Studies have shown that eating peanuts can increase your resting energy expenditure by 11 percent.
When choosing to include peanut butter to your breakfast routine make sure you choose one that does not contain additives like sugar.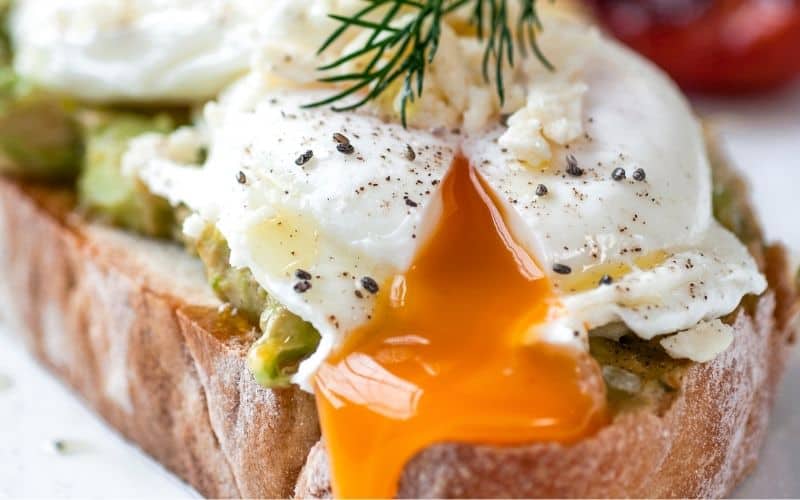 #7 – Avocado
Avocados are all the buzz these days. It was no surprise that they would show up on the list of the best metabolism boosting foods.
Avocados contain healthy fats that help lower cholesterol and boost metabolism. Research shows that people who eat avocados tend to have less belly fat than those who don't.
Some awesome ways to enjoy avocados for breakfast include avocado breakfast bowls, avocado toast, and avocado smoothies.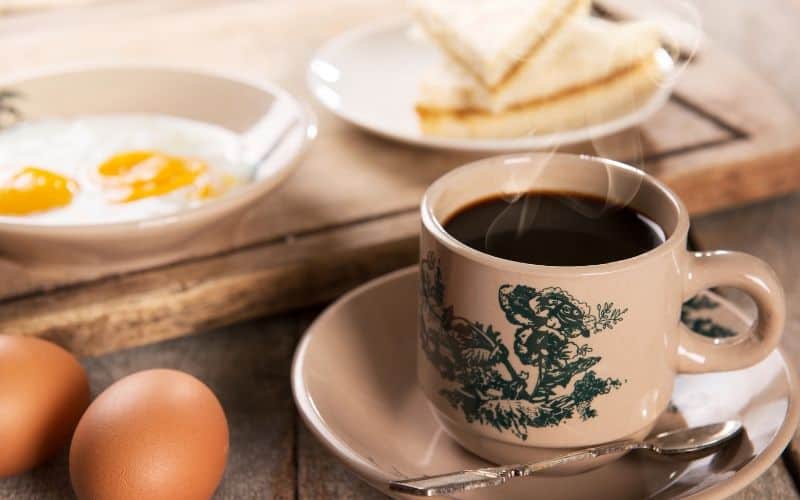 #8 – Coffee or Tea
Coffee and team are great breakfast beverages. They both contain caffeine which is known to boost your metabolism. Caffeine may also be effective at boosting your workout performance and helping your body burn fat for energy.
Green Tea is known to be one of the healthiest drinks and has the added bonus of aiding in raising your metabolism and giving you loads of energy.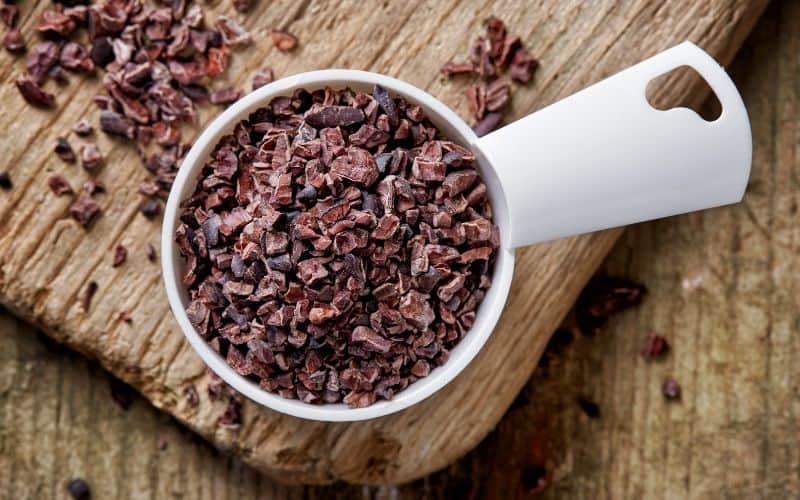 #9 – Cacao
Cacao was a new food for me. It is the starter ingredient for all chocolate. Raw cacao is a super-rich source of magnesium which helps our metabolism by reducing the negative impact of stress on our bodies.
It also contains theobromine and anandamide – theobromine is a natural stimulant and anandamide is an endorphin. These ingredients combined stimulate the body internally to achieve more metabolic burn.
You can add raw cacao to your breakfast menu but adding it to smoothies, trail mixes or just grab a handful (about 1-2 tablespoons daily).
#10 – Breakfast Smoothie
This list would not be complete without a super quick drinkable breakfast option. Because sometimes you need a grab and go breakfast.
For times like these, you can reach for a metabolism boosting breakfast smoothie. It can consist of nonfat yogurt, soy, almond or cashew milk, and mixed fruits.
Leave a comment and share your favorite metabolism boosting breakfast foods.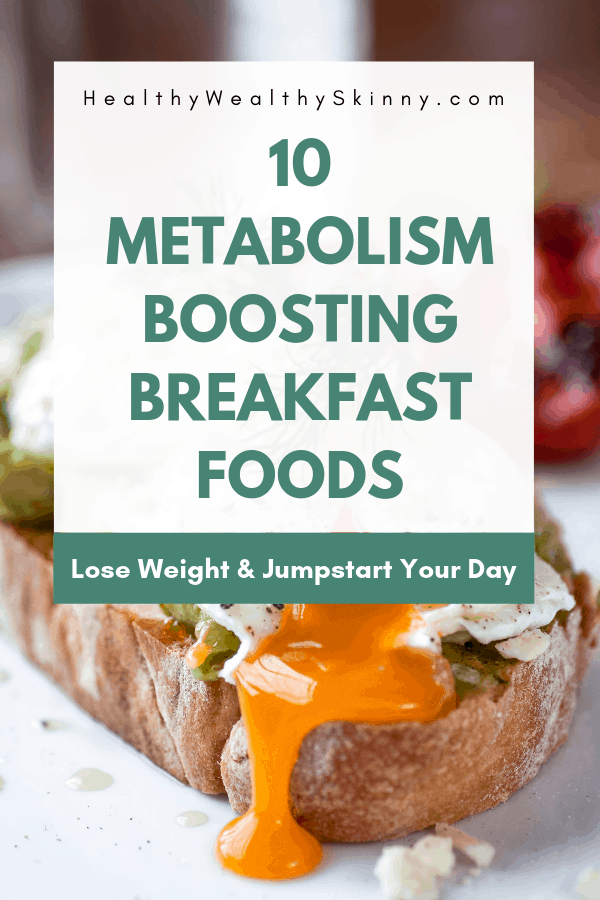 Don't forget to Like, Share, Tweet, and Pin this post.