My biggest struggle with eating healthy is that I am a very picky eater. If it's green and good for you, 9 times out of 10 I don't like it. Finding healthy meals for picky eaters takes research.
Luckily, if you're a picky eater you're in luck. I've done the research for you and I'll give you a few suggestions.
Keep in mind that not all picky eaters eat the same things. You may like a few of my suggestions and others you may not.
Note: This page contains affiliate links, which means that if you buy something using one of the links below, I may earn a commission.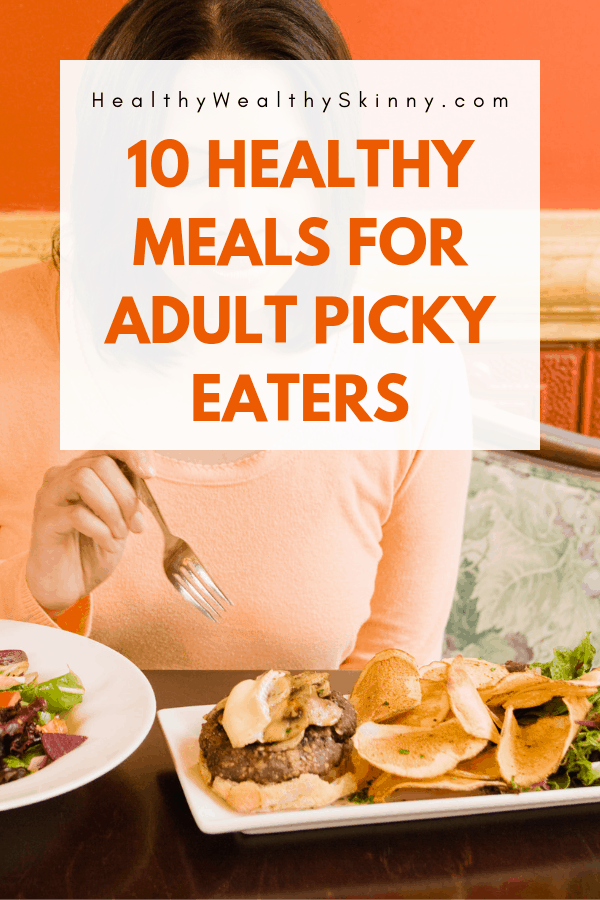 Healthy Recipes for Adults that are Picky Eaters
When you think of picky eaters you mainly think of kids. You tend to forget that those kids often grow up to be adults that are picky eaters.
As I've gotten older my pallet has expanded a little but for the most part, I am still considered a picky eater. Especially when it comes to eating healthy.
#1 – Healthy Mac & Cheese
Mac & Cheese is a common favorite among picky eaters. This version has a little broccoli thrown in. I wouldn't recommend this for kids because they can see the broccoli. But as an adult, I can know it's in there as long as I don't taste it.
Check out the recipe by Chocolate Covered Katie here.
#2 – Easy Homemade Pasta Sauce
Simple pasta dishes is another big hit for picky eaters. This simple recipe has only 3 ingredients and it can be used on pasta, pizza, in chili, and in tomato-based soups.
Get the recipe by Craving Something Healthy here.
#3 – Teriyaki Turkey Meatballs
Meatballs are pretty yummy. These teriyaki turkey meatballs are a healthier version of this simply favorite. They are great with a side of rice and any veggie you like.
Get the recipe by Your Choice Nutrition here.
#4 – Skinny Banana Blueberry Muffins
Sweet muffins are a pretty safe bet for picky eaters. These skinny banana blueberry muffins taste great and they are healthy. Blueberries are known to be a great brain food so these muffins are a perfect way to start your day.
Get the recipe by Sally's Baking Addiction here.
#5 – Simple Tortilla Pizza
You can't go wrong with Pizza right? This simple tortilla pizza is a healthy option for pizza lovers. It uses a crispy tortilla for the crust and then you add whatever sauce and toppings you enjoy.
Get the recipe by Cookie and Kate here.
#6 – Whole Wheat Banana Pancakes
I love pancakes or waffles on Saturday morning. I have a little extra time to spend on breakfast, so I indulge in pancake yumminess. These whole wheat banana pancakes are made with real simple ingredients and you can't even tell that they are healthy.
Get the recipe by Sally's Baking Addiction here.
Related Post: Mommy's Homemade Waffles
#7 – Sloppy Joes
I loved sloppy joes as a kid. They are meaty, saucy, and sloppy. What's not to love? This healthy version of the sloppy joe is equally as good in a healthy version.
Get the recipe by the Food Network here.
#8 – Soft Tacos With Spicy Chicken
This recipe takes basic chicken tacos and adds some spice. They don't include any strange ingredients that a picky eater wouldn't enjoy. Chicken and spices in a soft toco… simple, healthy, and yummy.
Get the recipe by Healthy here.
#9 – Crispy Fish Sticks
Fish is another healthy option to add to your weekly meal plan. These crispy fish sticks will give you a simple and crunchy way to eat fish that will meet the approval of most picky eaters.
They are healthier than prepackaged fish sticks because you will eliminate the preservatives and you can control the salt added.
Get the recipe by Bon Appetite here.
#10 – Light Chicken Pot Pie
As a kid, just the thought of chicken in a pie was just horrible. Now as an adult chicken pot pie is one of my favorite comfort foods. This healthy version of chicken pot pie has all the flavor of the traditional favorite.
Get the recipe by Food Network here.
Leave a comment and share some of your picky eater favorites.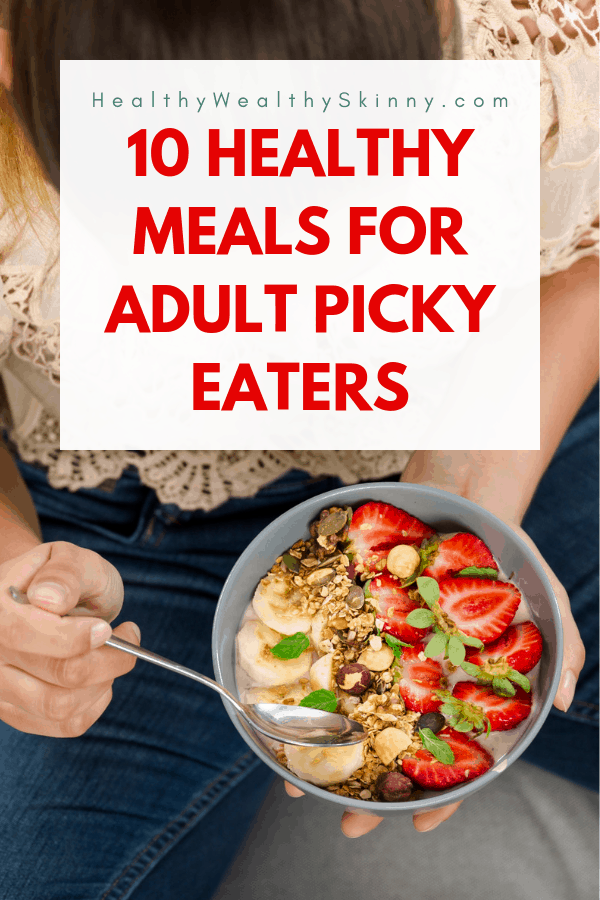 Don't forget to Like, Share, Tweet, and Pin this post.