Dave Ramsey is one of the first names that comes up in any how to budget conversation. The Dave Ramsey Budget has worked for many people and has solidified its place in the list of top budgeting methodologies.
Even if you don't agree with all of his advice, his budgeting method is based on the firm foundation of giving every dollar of your money a purpose. In the complicated space that is managing your personal finances, the Dave Ramsey budget is pretty simple to understand.
Note: This page contains affiliate links, which means that if you buy something using one of the links below, I may earn a commission.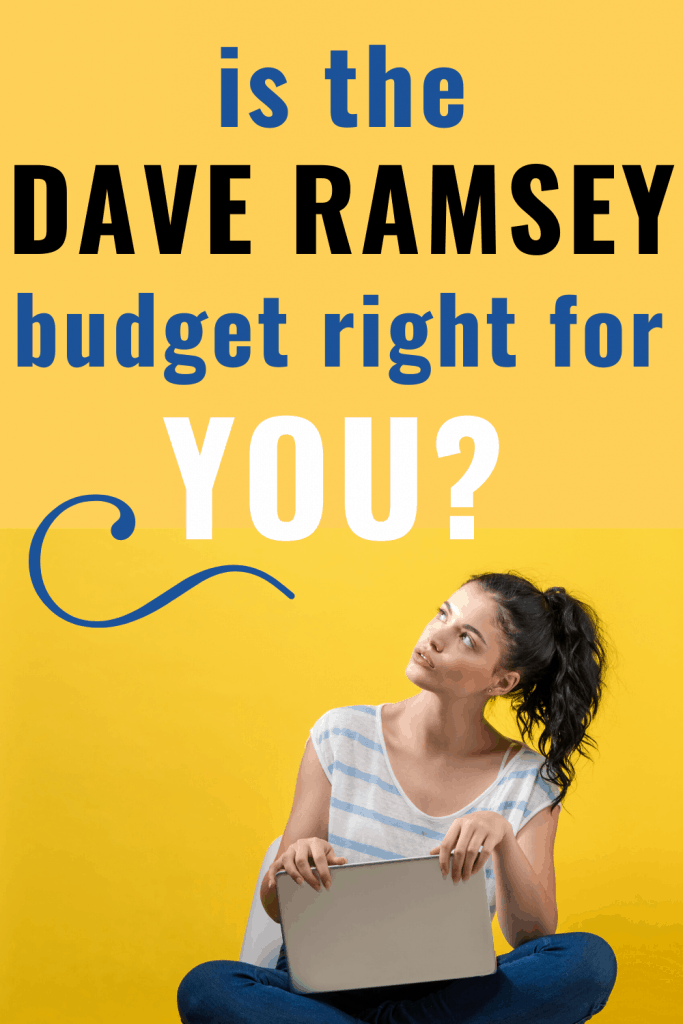 Why Do I Need a Budget
Everyone, no matter how much or how little money they have needs a budget. Your budget serves as the blueprint to your financial structure.
Having a budget gives you a clear view of your money. It shows you exactly how much money you have coming in and what expenses you have. It is essentially a financial tool that gives you the information you need to make informed financial decisions.
By looking at your budget you can determine if you need to cut expenses, make more money, how much money you can save, and any other financial decision that will come your way.
If you have a budget and manage it properly, you never have to guess when it's time to make a big purchase. It also gives you the ability to plan for life events like purchasing your first home, saving for your children's education, or even taking a dream vacation.
A budget is the key to achieving your financial goals.
Who is Dave Ramsey?
Dave Ramsey is an American radio host, businessman, and author. He is well known for his personal finance teachings which include his 7 baby steps designed to help you save money, pay off debt, and create wealth.
You can listen to Dave Ramsey's radio show on radio, YouTube, or in Podcast format. He has also written numerous books that you can grab here.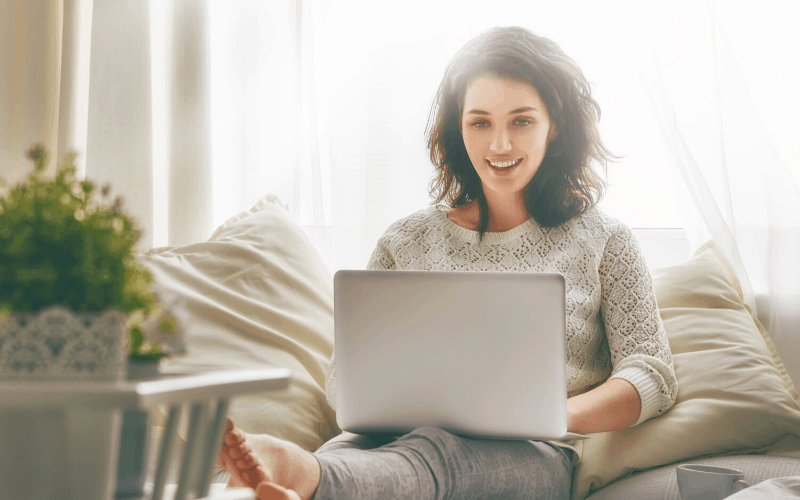 Dave Ramsey Budget System
The Dave Ramsey budget is also called a zero-based budget. In this budgeting methodology, your income minus your expenses should equal zero. You are in essence allocating every penny of your income to an expense.
As your expenses can change from month to month the zero based budget is designed to be a monthly budget that you create at the beginning of each month. When using the Dave Ramsey budget system you know exactly where all of your money goes each month.
How Does the Dave Ramsey Budget Work?
Dave Ramsey's budget is very simple and straight forward. Simply follow these zero-based budgeting steps:
Download a free copy of my Dave Ramsey Budget Spreadsheet here.
Step 1: Calculate your after-tax income.
Your first step is to determine your income. The income you use for your budget should be your after-tax income. This is the amount of your paycheck that you actually bring home.
To calculate your total income add up all of your income from all sources. This includes your primary job, part-time job, child support, alimony, or any residual income you may have coming in.
Step 2: Document all of your expenses.
This list should include everything that you spend your money on. Start off your list by including your most important expenses first. This includes housing, groceries, utilities, and transportation.
Next, start listing all of your other expenses. If you need help determining your expenses, try printing a few recent bank statements to see the things you are spending money on each month.
When reviewing your previous spending you will notice expenses that could not have been predicted. To account for these items you should create a miscellaneous category in your budget.
When documenting your expenses you will also need to account for money that you will save, donations, tithes, and money that you will use to pay off debt. These are all considered expenses in the Dave Ramsey zero-based budget.
Finally, stop and think of seasonal expenses that occur every year. This includes things like car tag payments, property taxes, your Amazon Prime subscription, or any type of renewal fees. You should even plan for things like your holiday travel budget and your gifts budget for birthdays and Christmas.
Planning for these types of expenses and saving for them in your budget throughout the year will put you ahead of the game.
Step 3: Subtract your expenses from your income.
Now here is the fun part (positive thinking). It is now time to subtract your expenses from your income. The desired result is for this value to be zero.
Before you freak out, getting your budget to balance out to zero will take some work. In most cases, you will need to make adjustments to your expenses and/or your income to make things work.
If you determine that your expenses are more than your income, it is time to start cutting your expenses. This might mean eating out less, canceling that gym membership, or letting go of Netflix. In more drastic cases this might include tightening up on your grocery budget by buying frugal foods or implementing some frugal living tips to cut costs in various areas of your budget.
Step 4: Track your expenses.
The final step is to monitor your zero-based budget by tracking your expenses. The purpose of this step is to ensure that your spending is actually lining up with your budget. All of your planning is useless if you don't actually follow it.
Tracking your spending also helps you to be more mindful of your spending. You are aware of your budgeting goals and you will consciously make wise spending decisions based on those goals.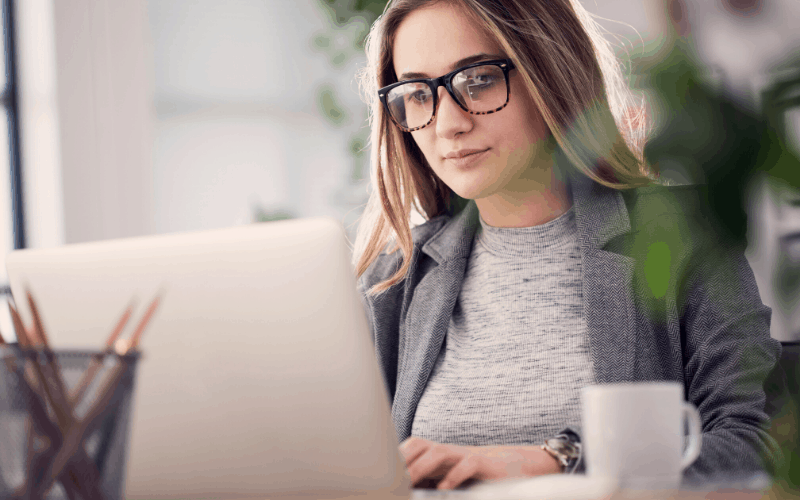 Dave Ramsey Budget Percentages
In order to help you get started with your budget, Dave provides his suggested household budget percentages for each of your budget categories. Keep in mind that these are merely starting out suggestions. Everyone's situation is different and you should adjust your budget to fit your life and goals.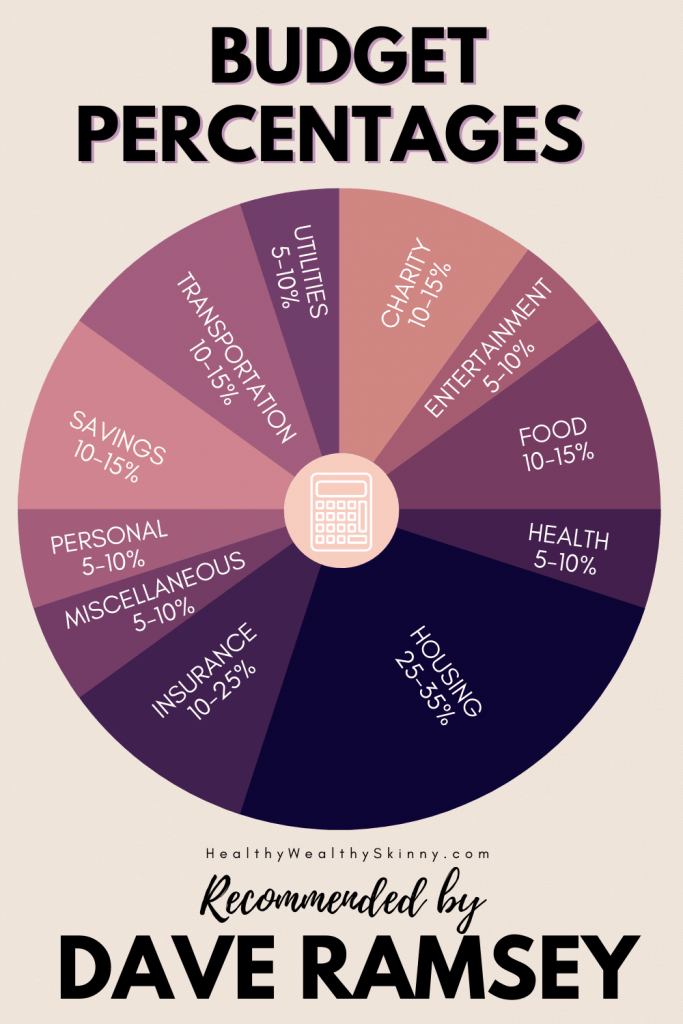 Charity: 10-15%
Entertainment: 5-10%
Food: 10-15%
Health: 5-10%
Housing: 25-35%
Insurance: 10-25%
Miscellaneous: 5-10%
Personal: 10-15%
Savings: 10-15%
Transportation: 10-15%
Utilities: 5-10%
Tips for Using the Dave Ramsey Budget
Zero based budgeting is considered to be a very strict budgeting method because every dollar of your income must be accounted for. Despite this fact, successfully using this budgeting method isn't hard at all.
Here are a few tips to help you be successful with the Dave Ramsey budget.
Tip #1 – Plan your budget around each one of your paychecks. This will make it easier to get your income minus your expenses to equal zero.
Tip #2 – Combine this budgeting method with the cash envelope method. After you have completed your budget for the month, cash your paycheck and place the amount allotted for each expense category into a separate envelope. This will help you with sticking to your budget percentages.
Tip #3 – Adjust your budget as needed. The budget percentages recommended by Dave Ramsey are just that… recommendations. Make adjustments to your budget so it is realistic for you.
Tip #4 – Utilize the tools that work for you to help you create and manage your budget as well as track your spending. This might be budgeting printables, budgeting spreadsheets, or budgeting apps like David Ramsey's budgeting app Every Dollar.
Don't forget to Like, Share, Tweet, and Pin this post.