There are many reasons why you might want to try meal planning. You might want to eat healthier meals, save money on meals, or even save time preparing meals.
Meal planning can give you all of these benefits. If you are just starting out, meal planning might seem overly complicated. But rest assured it is not.
In this blog post, learn 10 meal planning tips for beginners that will make meal planning a breeze.
Note: This page contains affiliate links, which means that if you buy something using one of the links below, I may earn a commission.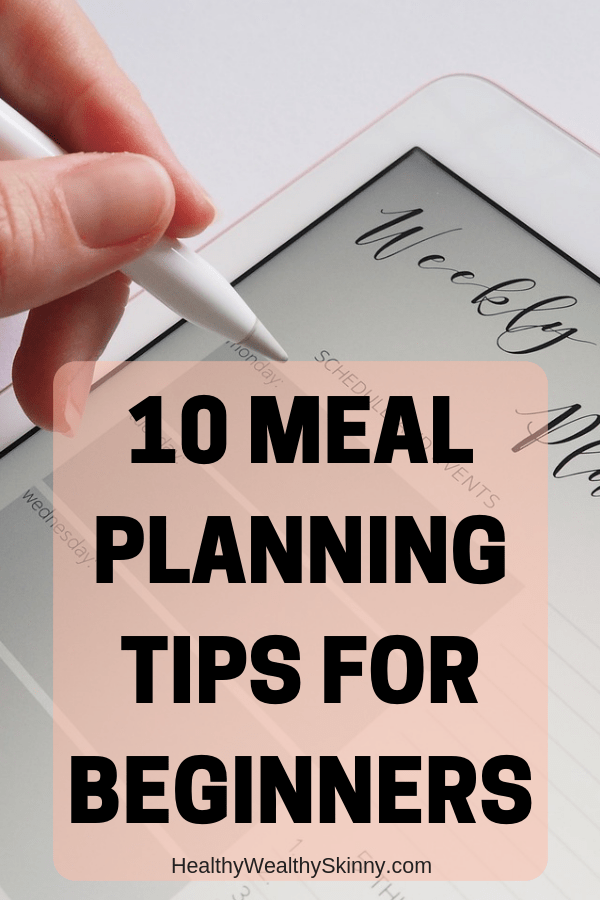 What Is Meal Planning?
Meal planning is simply deciding in advance what you're going to have to eat. In most cases, people plan several days' worth of meals and snacks.
Meal planning makes shopping, cooking and preparing food a much simpler and healthier process.
Meal planning is also an important part of achieving optimal or complete nutrition.
If you don't have a plan for what you're going to eat, you may end up grabbing whatever is fastest and most readily available. And for most of us, this means junk food.
How to Meal Plan for Beginners
In the video below Katie Sottile shares some quick meal planning tips for those of you don't know where to begin or who straight up hate to do it!
Meal Planning Tips for Beginners
Here are 10 meal planning tips for anyone new to meal planning.
#1 Determine Your Shopping Frequency
Based on your schedule determine how often you will want to shop. If you can only shop once a week then you're going to want to plan an entire week's worth of meals.
Choose a shopping frequency that is comfortable for you. If you are not a fan of grocery shopping, do not choose a frequency that requires you to go to the store multiple times a week.
If you are anything like me, you will opt to grab fast food instead of going to the store.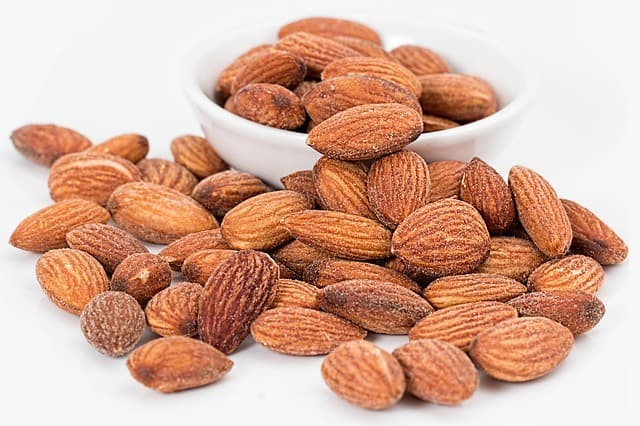 #2 Include Snacks in Your Planning
Snacks are a part of your daily eating routine. This means that they should be included in your meal planning.
If you do not plan your snacks, it is easy to grab something expensive or unhealthy.
#3 Plan Meals You Want to Eat
Planning meals that you actually want to eat is super important. You can plan to have carrots and celery stick for a snack.
However, if you don't like carrots and celery sticks, you're not going to eat them and you're likely to just go out for some fries.
Make sure the recipes and foods you put into your meal plan are foods that you and your family will want to eat.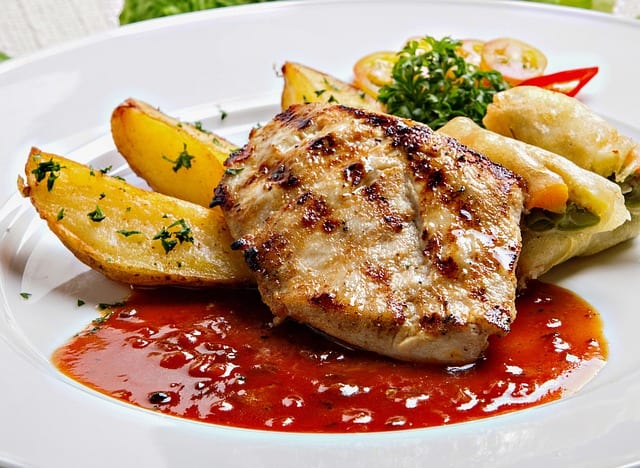 #4 Find Sources for Recipes
Where are you going to find your meal ideas? Take the time to identify a few great sources of nutritious recipes.
My favorite source for a variety of recipes is Pinterest. You might also like using a meal planning cookbook.
Related Post: 50 Frugal Meals to Make When You're Broke
#5 Create a Routine
Stay organized with your meal planning by creating a routine. Your routine should consist of planning meals, shopping, and documenting your meals on a set schedule.
For example, you might sit down and plan your meals on Thursday, take inventory of the things you need from the store on Friday, and go to the grocery store with your shopping list on Saturday.
Related Post: How to Cut Your Grocery Bill – 7 Easy Tips
If you are a visual person, you might also like using this meal planning dry erase board that attaches right to your refrigerator.
It will give you and your family a clear menu of what you have planned for breakfast, lunch, snacks, and dinner for the entire week.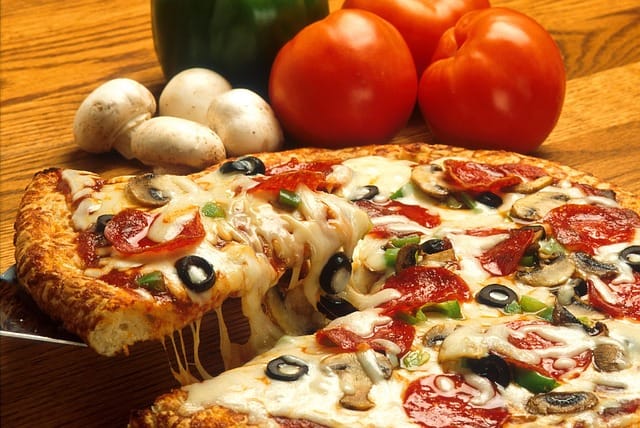 #6 Themed Dinners
When just starting out it is fun and easy to give some nights a dinner theme. I'm sure you've heard of Meatless Monday or Taco Tuesday.
Choose your family's favorite meals and make those your themed meals.
In my house, we love homemade tacos. So it was very easy to incorporate Taco Tuesdays into my meal planning.
We also love Pizza, so although we don't have a catchy name Thursdays is our pizza day.
#7 Involve the Eaters
If you're cooking for a family, include them in on the meal planning. They are the ones that will be eating the meals right?
Ask your family for new suggestions and for their favorite meals. When people feel that they have a say in what is served, they tend to be more excited about it.
You might, for example, let each member of the family choose one meal a week.
Related Post: Pack School Lunches Your Kids Will Actually Eat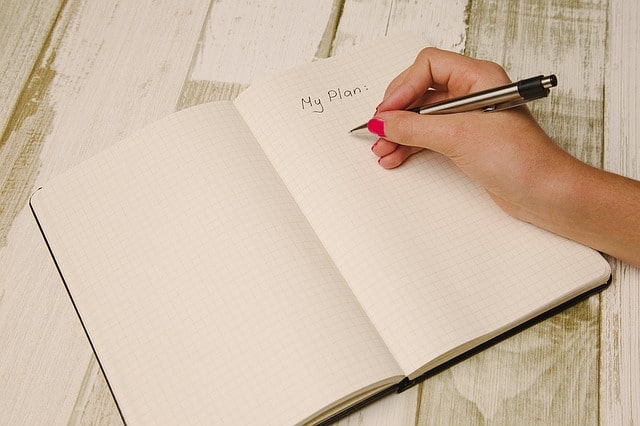 #8 Have a Backup Plan
My favorite express is "Life Happens". You might not have leftovers that you expected from last night's dinner and now you have nothing for lunch.
It always makes sense to have some backup food. If you have a backup plan then you are always prepared.
#9 Pre-Cook Meals
If your weekdays have a tendency to get really busy consider adding a few pre-cooked meals to your meal plan.
These should be healthy recipes that you can prepare on the weekend, freeze, and thaw and heat for dinner.
Casseroles and crockpot recipes are perfect options for pre-cooked meals.
You can put everything together in the morning and come home to dinner.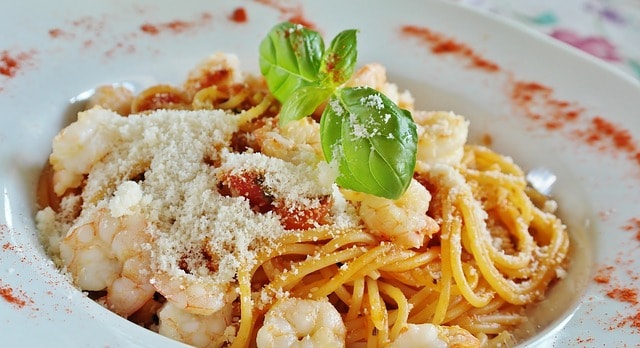 #10 Add Variety
As I mentioned earlier themed dinners are great. However, don't allow yourself to get into a meal planning rut.
Meatless Monday, Taco Tuesday, noodles on Wednesday and so on.
While themed dinners provide a framework to make planning easier, don't allow them to completely limit your choices. Add variety into your meal planning by including one new recipe each week.
This will get you and your family excited about your food.
Related Post: Healthy Foods that Start with T
Establish Meal Planning Habits
Meal planning can take some getting used to. It requires you to create a few new lifestyle habits.
However, once you've integrated these habits into your routine, you'll wonder how you ever managed without them.
It's a great way to make sure that each meal is nutritious and delicious.
Leave a comment and share you meal planning tips.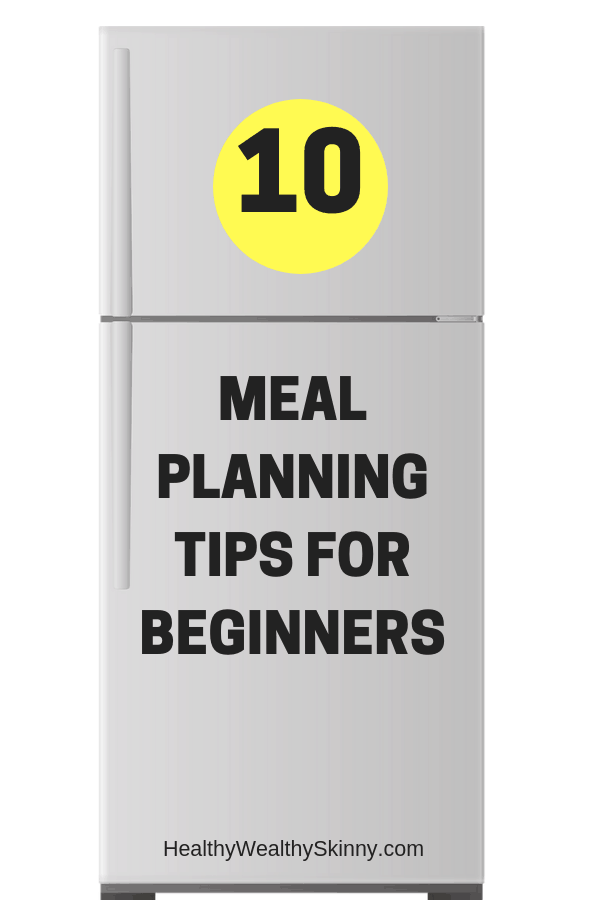 Don't forget to Like, Share, Tweet, and Pin this post.